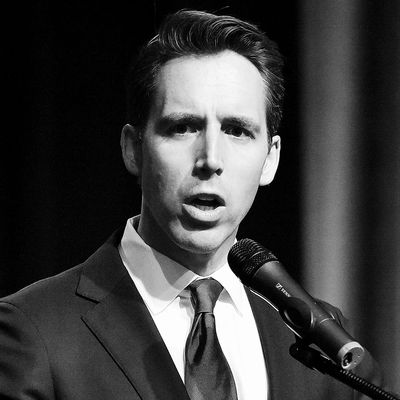 Josh Hawley.
Photo: John Sleezer/TNS via Getty Images
In the 1960s, the Sexual Revolution shifted Americans' views about premarital sex, nudity, and contraception. And, according to Missouri's attorney general Josh Hawley, it's also to blame for sex trafficking.
Back in December, Hawley spoke at an event called "Pastors and Pews" in Kansas City. In audio obtained by the Kansas City Star, Hawley can be heard saying:
We have a human-trafficking crisis in our state and in this city and in our country because people are willing to purchase women, young women, and treat them like commodities. There is a market for it. Why is there? Because our culture has completely lost its way. The sexual revolution has led to exploitation of women on a scale that we would never have imagined, never have imagined.
When asked to clarify the attorney general's comments, Hawley's spokesperson, Kelli Ford, said in an email she was "not sure what part was unclear," adding: "We now have a sex-trafficking epidemic because too many men view women as objects for their own gratification and control. Hollywood and the media have promoted this attitude for decades, and it is wrong."
Hawley is currently running in Missouri's GOP Senate primary to challenge incumbent Democratic senator Clare McCaskill. Amazingly, his statements have been some of the most tame from GOP candidates. Earlier this month, his opponent Courtland Sykes said he expects "a home-cooked dinner every night at 6" and that feminists are "career obsessed banshees."