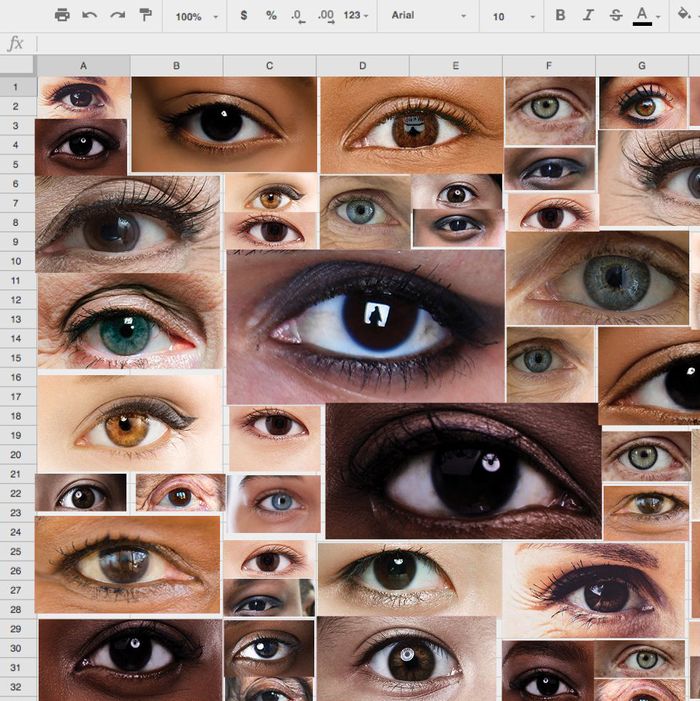 Photo-Illustration: Stevie Remsberg; Photos: Getty Images
In October, I created a Google spreadsheet called "Shitty Media Men" that collected a range of rumors and allegations of sexual misconduct, much of it violent, by men in magazines and publishing. The anonymous, crowdsourced document was a first attempt at solving what has seemed like an intractable problem: how women can protect ourselves from sexual harassment and assault.
One long-standing partial remedy that women have developed is the whisper network, informal alliances that pass on open secrets and warn women away from serial assaulters. Many of these networks have been invaluable in protecting their members. Still, whisper networks are social alliances, and as such, they're unreliable. They can be elitist, or just insular. As Jenna Wortham pointed out in The New York Times Magazine, they are also prone to exclude women of color. Fundamentally, a whisper network consists of private conversations, and the document that I created was meant to be private as well. It was active for only a few hours, during which it spread much further and much faster than I ever anticipated, and in the end, the once-private document was made public — first when its existence was revealed in a BuzzFeed article by Doree Shafrir, then when the document itself was posted on Reddit.
A slew of think pieces ensued, with commentators alternately condemning the document as reckless, malicious, or puritanically anti-sex. Many called the document irresponsible, emphasizing that since it was anonymous, false accusations could be added without consequence. Others said that it ignored established channels in favor of what they thought was vigilantism and that they felt uncomfortable that it contained allegations both of violent assaults and inappropriate messages. Still other people just saw it as catty and mean, something like the "Burn Book" from Mean Girls. Because the document circulated among writers and journalists, many of the people assigned to write about it had received it from friends. Some faced the difficult experience of seeing other, male friends named. Many commentators expressed sympathy with the aims of the document — women warning women, trying to help one another — but thought that its technique was too radical. They objected to the anonymity, or to the digital format, or to writing these allegations down at all. Eventually, some media companies conducted investigations into employees who appeared on the spreadsheet; some of those men left their jobs or were fired.
None of this was what I thought was going to happen. In the beginning, I only wanted to create a place for women to share their stories of harassment and assault without being needlessly discredited or judged. The hope was to create an alternate avenue to report this kind of behavior and warn others without fear of retaliation. Too often, for someone looking to report an incident or to make habitual behavior stop, all the available options are bad ones. The police are notoriously inept at handling sexual-assault cases. Human-resources departments, in offices that have them, are tasked not with protecting employees but with shielding the company from liability — meaning that in the frequent occasion that the offender is a member of management and the victim is not, HR's priorities lie with the accused. When a reporting channel has enforcement power, like an HR department or the police, it also has an obligation to presume innocence. In contrast, the value of the spreadsheet was that it had no enforcement mechanisms: Without legal authority or professional power, it offered an impartial, rather than adversarial, tool to those who used it. It was intended specifically not to inflict consequences, not to be a weapon — and yet, once it became public, many people immediately saw it as exactly that.
Recent months have made clear that no amount of power or money can shield a woman from sexual misconduct. But like me, many of the women who used the spreadsheet are particularly vulnerable: We are young, new to the industry, and not yet influential in our fields. As we have seen time after time, there can be great social and professional consequences for women who come forward. For us, the risks of using any of the established means of reporting were especially high and the chance for justice especially slim.
When I began working in magazines as a new college graduate in 2013, I was furtively warned away from several of my industry's most well-known abusers. Over the intervening years, I've met these characters in various guises. There was the hard-drinking editor who had worked in all the most prestigious editorial departments, who would down whiskeys until he was drunk enough to mention that he could help your career if you slept with him. There was the editor who would lean too close but who was funny enough that he would often charm women into consensual encounters that were then rumored to turn abruptly, frighteningly violent. Last summer, I saw two of the most notorious of these men clutching beers and laughing together at a party for a magazine in Brooklyn. "Doesn't everyone know about them?" another woman whispered to me. "I can't believe they're still invited to these things." But of course we could believe it. By then, we'd become resigned to the knowledge that men like them were invited everywhere.
The spreadsheet was intended to circumvent all of this. Anonymous, it would protect its users from retaliation: No one could be fired, harassed, or publicly smeared for telling her story when that story was not attached to her name. Open-sourced, it would theoretically be accessible to women who didn't have the professional or social cachet required for admittance into whisper networks. The spreadsheet did not ask how women responded to men's inappropriate behavior; it did not ask what you were wearing or whether you'd had anything to drink. Instead, the spreadsheet made a presumption that is still seen as radical: That it is men, not women, who are responsible for men's sexual misconduct.
There were pitfalls. The document was indeed vulnerable to false accusations, a concern I took seriously. I added a disclaimer to the top of the spreadsheet: "This document is only a collection of misconduct allegations and rumors. Take everything with a grain of salt." I sympathize with the desire to be careful, even as all available information suggests that false allegations are rare. The spreadsheet only had the power to inform women of allegations that were being made and to trust them to judge the quality of that information for themselves and to make their own choices accordingly. This, too, is still seen as radical: the idea that women are skeptical, that we can think and judge and choose for ourselves what to believe and what not to.
Nevertheless, when I first shared the spreadsheet among my women friends and colleagues, it took on the intense sincerity of our most intimate conversations. Women began to anonymously add their stories of sexual assault; many of the accounts posted there were violent, detailed, and difficult to read. Women recounted being beaten, drugged, and raped. Women recounted being followed into bathrooms or threatened with weapons. Many, many women recounted being groped at work, or shown a colleague's penis. Watching the cells populate, it rapidly became clear that many of us had weathered more than we had been willing to admit to one another. There was the sense that the capacity for honesty, long suppressed, had finally been unleashed. This solidarity was thrilling, but the stories were devastating. I realized that the behavior of a few men I had wanted women to be warned about was far more common that I had ever imagined. This is what shocked me about the spreadsheet: the realization of how badly it was needed, how much more common the experience of sexual harassment or assault is than the opportunity to speak about it. I am still trying to grapple with this realization.
Over the course of the evening, the spreadsheet expanded further: Many of the incidents reported there were physical, but there were also accounts of repeated sexual remarks, persistent inappropriate passes, unsolicited drunken messages. There was an understanding of the ways that these less-grave incidents can sometimes be harbingers of more aggressive actions to come, and how they can accrue into soured relationships and hostile environments. For clarity, I imposed a system that visibly distinguished violent accusations from others: Once a man had been accused of physical sexual assault by more than one woman, his name was highlighted in red. No one confused a crude remark for a rape, and efforts were made to contextualize the incidents with notes — a spreadsheet allows for all of this information to be organized and included. But the premise was accepted that all of these behaviors were things that might make someone uncomfortable and that individuals should be able to choose for themselves what behavior they could tolerate and what they would rather avoid.
I took the spreadsheet offline after about 12 hours, when a friend alerted me that Shafrir would soon be publishing an article at BuzzFeed making the document's existence public. By then, the spreadsheet had gone viral. I had imagined a document that would assemble the collective, unspoken knowledge of sexual misconduct that was shared by the women in my circles: What I got instead was a much broader reckoning with abuses of power that spanned an industry. By the time I had to take the document down, more than 70 men had been named on the version that I was managing (other versions, assembled after the spreadsheet was taken offline, appeared later). The men ranged in age from their 20s to their 60s, and 14 had been highlighted in red to denote more than one accusation of sexual assault or rape. Some have expressed doubts about the veracity of the claims in the document, but it's impossible to deny the extent and severity of the sexual-harassment problem in media if you believe even a quarter of the claims that were made on the spreadsheet. For my part, I believe significantly more than that.
I can't pretend that the spreadsheet didn't frighten me. As the stories accumulated and it became clear that many, many more women were using the document than I had ever imagined, I realized that I had created something that had grown rapidly beyond my control. I was overwhelmed and scared. That night, I went to a friend's house to make dinner, and while I was there I confided in her about my fears. I worried that managing the document would eventually put me in the uncomfortable position of needing to decide whose stories belonged there and whose didn't. I thought that I would lose my job and the career I'd worked so hard to build. My friend could hear the anxiety in my voice; she urged me to take the document down. But I was conflicted. What was going on there was clearly cathartic for the women who were using it, telling their stories, encouraging one another, saying that it had happened to them too. Many women don't have the privileges that mitigate the risks of doing such a thing — privileges like whiteness, health, education, and class — and I do; it would be easier for me than for other people. I hoped that women reporters who saw the document might use it as a tip sheet and take it upon themselves to do the reporting that the document couldn't do and find evidence, if there was any, of the allegations made there. I began to think that maybe some of the assaults that women were warning one another about on the spreadsheet could be stopped by the power of the spreadsheet itself.
I was incredibly naïve when I made the spreadsheet. I was naïve because I did not understand the forces that would make the document go viral. I was naïve because I thought that the document would not be made public, and when it became clear that it would be, I was naïve because I thought that the focus would be on the behavior described in the document, rather than on the document itself. It is hard to believe, in retrospect, that I really thought this. But I did.
In some ways, though, I think the flaws in the spreadsheet were also a result of my own cynicism. At the time when I made it, I had become so accustomed to hearing about open secrets, to men whose bad behavior was universally known and perpetually immune from consequence, that it seemed like no one in power cared about the women who were most vulnerable to it. Sexual harassment and assault, even when it was violent, had been tolerated for so long that it seemed like much of the world found it acceptable. I thought that women could create a document with the aim of helping one another in part because I assumed that people with authority didn't care about what we had to say there. In this sense, at least, I am glad I was wrong.
In the weeks after the spreadsheet was exposed, my life changed dramatically. I lost friends: some who thought I had been overzealous, others who thought I had not been zealous enough. I lost my job, too. The fear of being exposed, and of the harassment that will inevitably follow, has dominated my life since. I've learned that protecting women is a position that comes with few protections itself.
This escalated when I learned Katie Roiphe would be publishing my name in a forthcoming piece in Harper's magazine. In early December, Roiphe had emailed me to ask if I wanted to comment for a Harper's story she was writing on the "feminist moment." She did not say that she knew I had created the spreadsheet. I declined and heard nothing more from Roiphe or Harper's until I received an email from a fact checker with questions about Roiphe's piece. "Katie identifies you as a woman widely believed to be one of the creators of the Shitty Men in Media List," the fact checker wrote. "Were you involved in creating the list? If not, how would you respond to this allegation?" The next day, a controversy ensued on Twitter after Roiphe's intention to reveal my identity was made public. People who opposed the decision by Harper's speculated about what would happen to me as a result of being identified. They feared that I would be threatened, stalked, raped, or killed. The outrage made it seem inevitable that my identity would be exposed even before the Roiphe piece ran. All of this was terrifying. I still don't know what kind of future awaits me now that I've stopped hiding.
But over the past months I've also had many long, frank conversations with other journalists, men and women, about sexual harassment and assault in our industry. Many came to me with stories of their own abuse, some of which they had been too afraid to add to the spreadsheet, even anonymously. Others told me that they had seen their own attacker or harasser on the document and that they hadn't put him there. That meant that what that person had done to them, he had done to other people, too. In some of these conversations, we spent hours teasing out how these men, many of whom we knew to be intelligent and capable of real kindness, could behave so crudely and cruelly toward us. And this is another toll that sexual harassment can take on women: It can make you spend hours dissecting the psychology of the kind of men who do not think about your interiority much at all.
A lot of us are angry in this moment, not just at what happened to us but at the realization of the depth and frequency of these behaviors and the ways that so many of us have been drafted, wittingly and unwittingly, into complicity. But we're being challenged to imagine how we would prefer things to be. This feat of imagination is about not a prescriptive dictation of acceptable sexual behaviors but the desire for a kinder, more respectful, and more equitable world. There is something that's changed: Suddenly, men have to think about women, our inner lives and experiences of their own behavior, quite a bit. That may be one step in the right direction.
Last year, I wrote that women just recounting their experiences of sexism did not seem like enough. I wanted action, legislation, measurable markers of change. Now I think that the task at hand might be more rudimentary than I assumed: The experience of making the spreadsheet has shown me that it is still explosive, radical, and productively dangerous for women to say what we mean. But this doesn't mean that I've lowered my hopes. Like a lot of feminists, I think about how women can build power, help one another, and work toward justice. But it is less common for us to examine the ways we might wield the power we already have. Among the most potent of these powers is the knowledge of our own experiences. The women who used the spreadsheet, and who spread it to others, used this power in a special way, and I'm thankful to all of them.