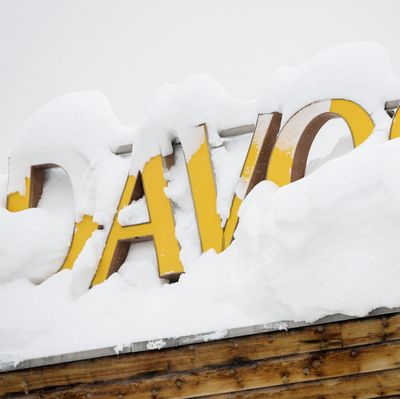 Beautiful Davos.
Photo: FABRICE COFFRINI/AFP/Getty Images
Here is some truly distressing news from Switzerland: The town of Davos is currently buried under six feet of snow, severely inconveniencing all of the billionaires and millionaires in town for the annual World Economic Forum. Oh no!
According to the New York Times, "fat, damp snowflakes have been tumbling down for the past six days," closing roads and subjecting the Forum's attendees to unimaginable humiliations. Via the Times:
In perhaps the most harrowing indignity for the plutocrats who have made the World Economic Forum their favorite winter meeting ground, even the town's helicopter pad was closed because of the snowstorm. By early afternoon, a quarter-mile trip in one of the ubiquitous black luxury minivans with plush leather seats that shuttle participants around the town took nearly an hour.
What a terrible situation our global elite find themselves in. Though, as Treasury secretary and Man of the People Steve Mnuchin remarked earlier this month: "I don't think it's a hangout for globalists." Indeed, Davos is full of average Joe and Jill Schmoes this year, like U.K. prime minister Theresa May, Canadian prime minister Justin Trudeau, International Monetary Fund chief Christine Lagarde, and Sir Elton John.
President Trump is expected to fly to Davos later this week. Who knows, if he gets stuck in the snow, maybe he'll get a chance to play around in one of his favorite vehicles.