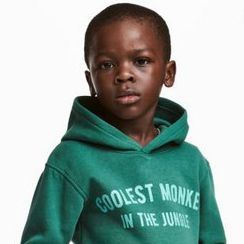 H&M faced a swift and powerful backlash after photos of a sweatshirt reading "coolest monkey in the jungle" modeled on a black child went viral. However, the child model's mother says it's no big deal and to "get over it."
The hoodie went viral after New York Times columnist Charles M. Blow tweeted a photo of the product with the caption "@hm, have you lost your damned minds?!?!?!" He quickly garnered support (from celebrities like LeBron James and Sean "Diddy" Combs) calling the design racist for seemingly comparing the black child to a monkey. Musicians G-Eazy and the Weeknd said that they would no longer collaborate with the brand because of it.
However, in an interesting twist, the child-model's mother is telling people to "get over it." Terry Mango wrote on social media, "That's my son … I've been to all photo shoots and this was not an exception, everyone is entitled to their opinion about this. This is one of hundreds of outfits my son has modeled … stop crying Wolf all the time, unnecessary issue." Mango, according to her Facebook page, appears to be from Kenya and based in Sweden.
H&M has removed the photo and the sweatshirt following the backlash, and apologized on social media.