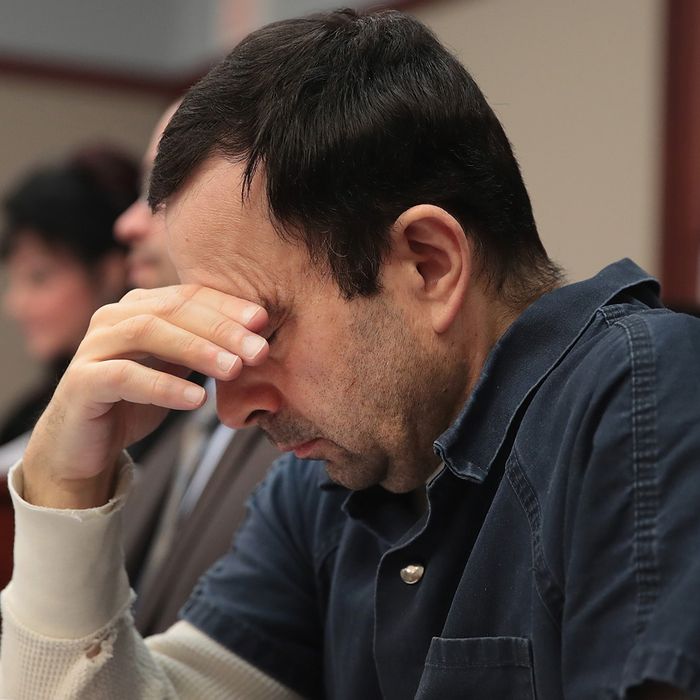 Larry Nassar.
Photo: Scott Olson/Getty Images
American gymnasts have again spent this week in court sharing their encounters with Dr. Larry Nassar, the USA Gymnastics coach on trial for allegedly sexually abusing as many as 140 young women in his care.
Nassar, who is already facing 60 years in jail for possessing child pornography, is in the process of being sentenced for sexually abusing dozens of young gymnasts.
Many of these gymnasts, including Aly Raisman and McKayla Maroney, have accused organizations like USA Gymnastics of allowing Nassar's behavior to persist. (Three top board members of USA Gymnastics resigned this week.)
Now, the NCAA has opened an official investigation into Nassar's former employer, Michigan State, where he served on the faculty for decades, the New York Times reports.
Under NCAA rules, colleges are required to protect the health and safety of athletes. Complaints about Nassar are not limited to gymnasts. Members of the cross-country, softball, and crew teams have also accused Nassar of sexual abuse. This week, a former Michigan state rower said she had reported Nassar to the school and didn't receive any response.
Michigan State has not yet commented on the investigation.