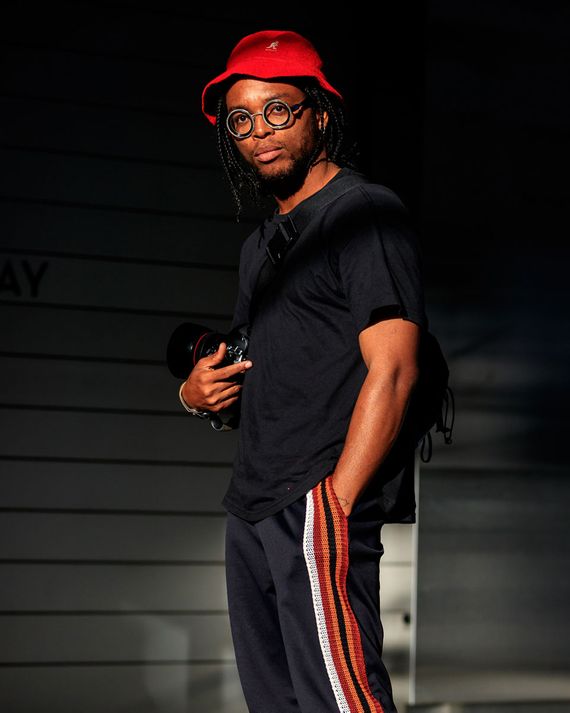 Photo: Jonathan Paciullo/LeFrenchyStyle
This week, the international fashion community was saddened to learn about the untimely death of Nabile Quenum, a 32-year-old street-style and fashion photographer from Paris who also blogged under the name, "J'ai Perdu Ma Veste." According to sources close to Quenum, he went to sleep approximately two weeks ago in his apartment and never woke up. The cause of death is said to have been carbon-monoxide poisoning. Quenum is survived by his father Adolphe Lazare Richard Quenum and eight siblings. A private memorial service will be held on Saturday, January 13, 2018.
Nabile's perspective was clear the minute he walked into the Cut offices two years ago wearing a pair of steam-punk-esque eyeglasses, Japanese cargo pants, and a plaid coat so distinctive that the outfit almost derailed the whole meeting. After explaining his love for Japanese brands, he told us what he loved about shooting street style, passionately detailing what made a good outfit — the special combination of attitude and personality that a particular person could bring out of certain clothes. He made it clear he would only photograph people whose outfits he found inspiring, regardless of how "famous" they were. He laughed his big, boisterous laugh and charmed us all.
Nabile was an editor as much as he was a photographer, and his best work turned brief encounters outside of fashion shows into editorial-worthy fashion shoots. Editing his images was never easy, as he sent an abundance and many of them were so exuberant, capturing the light and energy of the shows so well. He also went out of his way to include photographs of women of color, in a way that some street-style photographers had previously overlooked. When handing in an assignment, Nabile would sometimes disagree with us over an edit, in that wonderfully firm French, fashion-y way, and was never wrong. That same willingness to speak up came through this fall during Milan Fashion Week, when he stood up as one of the organizers of the #NoFreePhotos movement. He will be deeply missed.
Below, the fashion community shares their memories and what they loved about him most, and we've gathered some of our favorite shots from over the seasons.
Tamu McPherson

photographer/blogger, all the pretty birds
I feel in my heart that Nabile was one of those people that the universe sends here for a reason. He had a special energy which he shared fully. He gave so much in the relatively short period of time that he worked on the show circuit. He was encouraging and refreshingly frank about his opinions, and with his advice. I loved and respected this part of his personality so much. He definitely challenged me to elevate the quality of everything I do. I am grateful that I was able to meet him and get to know him. I wish we had more time, but he is an angel now.
Scott Schuman

STREET-STYLE PHOTOGRAPHER, THE SATORIALIST
Nabile was a ball of energy at every Fashion Week, you never had to ask if he was at a show because you could feel his presence. He literally bounced around from shot to shot. I think he was great at capturing style because he had such great style himself and he recognized great style in others. He also had a great ability to flow between street-style cliques, he was a glue that helped hold the street-style community together. Jenny and I will miss him greatly.
Shiona Turini

Stylist and fashion consultant
Nabile was one of the most special people I've had the pleasure of connecting with in this industry. He could brighten and lighten the toughest of days — his energy radiated positive vibes. I was lucky enough to be able to work with him in other ways outside of just seeing him on the streets during Fashion Week and I got to see how creative, hard-working, and diligent he truly was. Beyond all of that, he kept it real and kept it honest. We have so few genuine conversations in this industry, but with Nabile we could talk and vent about anything on any street corner: from racism to clothes — nothing was off limits. Nabile went above and beyond to make sure women of color were represented in his images and in street style in general. He wanted to make sure we were seen and we were included. I will miss Nabile immensely. The streets just won't be the same.
BryanBoy

Fashion blogger
Nabile is one of the most hardworking, down to earth, joyous, and truly the nicest photographers that I know. I have nothing but incredible respect to him as a person and also his work. He does not have a single ounce of arrogance, does not play favorites in terms of subjects — he truly chronicles what people are wearing outside the shows in his own style. I think what I'll miss about him the most is his ability to always make me and everyone around him smile.
Jonathan Paciullo/FrenchyStyle

STREET-STYLE PHOTOGRAPHER
For a few seasons, we stayed only him and I in an Airbnb. We planned all the flights together … We were ready for this season … I will try to do it alone.
Jenny Walton

Fashion director, the satorialist
Nabile was one of the most kind and alive people that I have ever had the pleasure to know. Full of energy and excitement, I looked forward to seeing him outside of every show. He always brightened my day with his smile. He was a fantastic photographer, and he took so many beautiful photos and worked very hard at what he did, often describing sleepless nights of editing. A part of what made him so good was his wonderful ability to make you open up in his photos through his charm. His openness and lightness was completely disarming. He always went out of his way to help me and he stood up for other photographers who were less well known. Nabile was a wonderful person. It pains me very deeply to have to come to terms with his passing.
Evgen Kovalenko

STREET-STYLE PHOTOGRAPHER
Now I'm in Florence at Pitti and I can't see him … I can't believe that this happened. I really love Nabile, he was always friendly and funny guy! He is in my heart forever …
Matthew Sperzel

STREET-STYLE PHOTOGRAPHER
It's very heartbreaking to hear about a colleague who always had such a big smile on his face. It's easy to see the immensely positive impact Nabile had on the fashion community given all the support for his family across social media today. His generous gifts of talent and personality will be missed but not forgotten. May Nabile's legacy, memories, and art continue to bring the spirit of love to the fashion industry for generations to come.
Caroline Vreeland

model/actress
Nabile was always unique. He always had a smirk on his face like he was in on some kind of joke that you wished you were a part of. I would always veer off to him hoping that he would deem me cool enough to take my portrait. You wanted to be in his world. I had the pleasure of working on a couple different projects with Nabile outside of street style and he was always such a visionary and so ahead of his time. The world needed to see what else he was going to do because he was going to do great things. I'll miss seeing his sweet face in all the venues all over the world. In a world where I literally live out of a suitcase and never feel at home, his face was a reminder that I had a tribe, as nomadic as we may all be. I can't even imagine the grief of his friends and family. I feel grateful to have known him.
Jan-Michael Quammie

editor-in-chief, material magazine
Nabile was a supporter from day one! He knew he had the platform to make newcomers on the Fashion Week scene a thing. I remember how genuinely interested he was in knowing who I was and supporting me, but not on a superficial level. Our talks were real and I'll miss our jokes in-between shows and that eye of his and his passion for photography. He always shot the most flattering images of me. I'm proud to say I knew him.
Adam Katz Sinding/Le21eme

Street-style photographer
I knew Nabile since his first days of Fashion Weeks. We traveled the world, shooting side by side. I had tons of respect for his passion for the medium and his work ethic. We had tons of great experiences together and it's a horrible loss to learn of. Not at all how any us would have imagined our 2018 to start off.
Eddie Newton/Mr.Newtown

STREET-STYLE PHOTOGRAPHER
I was very sad and shocked to hear about Nabile's death. Although the newest street-style photographers recognize him as someone who's been around for awhile, the truth is he was just coming into his own. He's gone way too soon. I'm sure he still had much left to contribute. I'm sure he had many things still to contribute that stretched well beyond the world of fashion photography and street style. He had that vibe about him — lots of energy — a man with a plan.
Julien Boudet/Bleu Mode

STREET-STYLE PHOTOGRAPHER
We met on the streets in Paris, shooting street style, I would say about four years ago. Since we were both into basketball and hip-hop — and fashion/photography obviously — we connected pretty quickly and we ended up hanging out outside of work. We went to a hundred fashion parties together in every city, dancing and having lots of fun, we played basketball together all over the world (Tokyo, Tbilisi, NYC, Paris, Copenhagen, Milan, London … ) He was one of the main photographers during Fashion Week, very passionate about what he does and super ambitious as well. His personal style was also unique, mixing many colors and pulling off some crazy outfits nobody else could have worn. I think this year he wanted to do a portraiture project in Bénin, where he was raised … He will be missed and he definitely influenced a lot of people in the world, for his style/work. Repose en paix frère.
Yu Fujiwara/8and2

STREET-STYLE PHOTOGRAPHER
Nabile was a true character, annoyingly funny. He always know how to have fun.
We were often joking each other with bad jokes, snow fight during the train trip to Paris, talked about photos, music, Hawaiian shirts, also many silly things we talked about. Bright funny guy he was.
Kuba Dabrowski

STREET-STYLE PHOTOGRAPHER
My favorite memory of Nabile is going to be one of a snow fight we had when our train from Milan to Paris broke down and stopped on a remote station in the Alps. Following Nabile's lead whole fashion crowd that was on board traveling from one fashion week to another went out to the platform and started playing in the snow - editors, photographers, models… It was Nabile's first snow fight.
When Nabile was around, you couldn't miss his presence. Dancing, playing music on his speaker, doing parkour tricks, starting conversations with strangers on the metro and generally being visible… It never felt forced though, it never felt like there was too much of him or like if it was a case of his ego being too big… He would say that in Africa it's normal, that everybody back home acts like that.
Lead Image Credit
: Photo Courtesy of

Jonathan Paciullo/FrenchyStyle
See some of Nabile's best street-style photographs below.