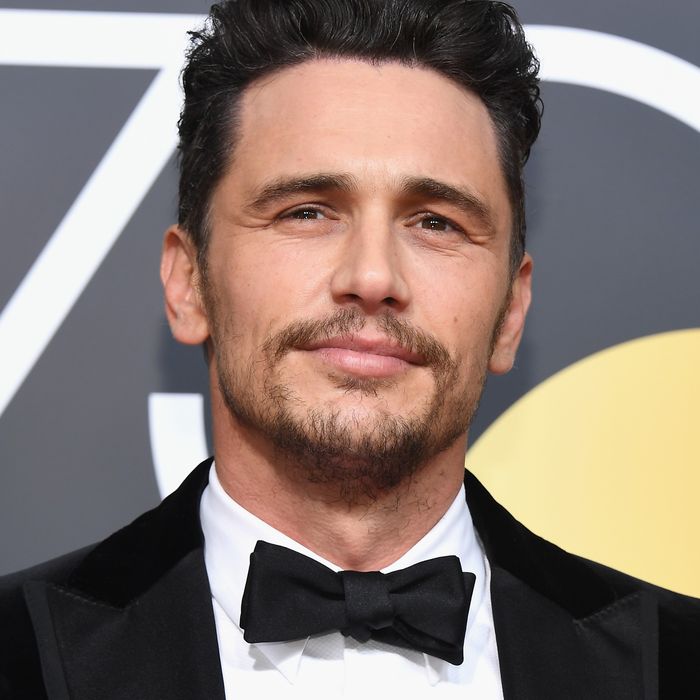 James Franco.
Photo: Kevork Djansezian/NBC/NBCU Photo Bank via Getty Images via Getty Images
As James Franco was accepting his Golden Globe on Sunday night for Best Actor in a Musical or Comedy, Twitter started buzzing with several women accusing him of sexual misconduct. Now, two days later, the New York Times has canceled* a TimesTalk event with the actor. "The event was intended to be a discussion of the making of the film, The Disaster Artist," the Times said in a statement. "Given the controversy surrounding recent allegations, we're no longer comfortable proceeding in that vein."
After Franco won his Golden Globe, actress Ally Sheedy posted a few since-deleted tweets about Franco, one of which said, "James Franco just won. Please never ask me why I left the film/tv business." Multiple other women made specific claims about Franco mistreating them. One of them, going by the name Violet Paley on Twitter, said, "Cute #TIMESUP pin James Franco. Remember the time you pushed my head down in a car towards your exposed penis & that other time you told my friend to come to your hotel when she was 17? After you had already been caught doing that to a different 17 year old?"
Franco has previously discussed one incident in which he flirted with an "almost" 18-year-old girl via social media and offered to get a room for the two of them to spend time together. That was in 2014, and at the time he apologized for his "bad judgment," calling the situation "embarrassing." In a post-Weinstein world, copping to poor decision-making is not likely to have the same soothing effect that it did three or four years ago.
*Correction, January 10, 2017: A previous version of this article stated that James Franco "backed out" of the TimesTalk. The New York Times announced that it canceled the event. The post has been updated to reflect this correction.