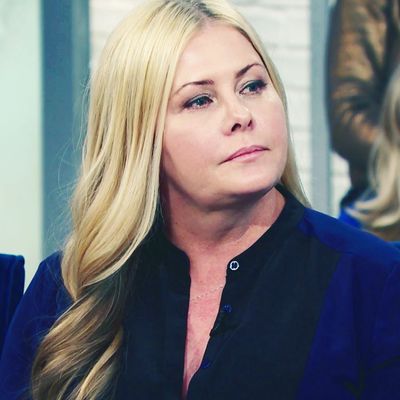 Nicole Eggert on
Megyn Kelly Today
.
Photo: Courtesy of Megyn Kelly Today
On Tuesday morning, actress Nicole Eggert went on Megyn Kelly Today to talk about the sexual abuse she allegedly experienced as a minor at the hands of her Charles in Charge co-star Scott Baio.
Eggert told Megyn Kelly that Baio first assaulted her shortly after she joined the show in 1986, when she was only 14 and he was in his mid-twenties.
"He immediately took to me, and befriended me, and earned my trust," Eggert said, tearing up. "And then he started expressing his love for me, and talking about marriage in the future. And then — I was still 14 — before my 15th birthday, we were at his house, in his car, in his garage and he reached over and he penetrated me with his finger. And that is when the sexual touching and abuse started."
Eggert said the abuse happened regularly until she was 16, and that she and Baio had sex for the first time when she was 17. She also told Kelly that Baio would warn her not to tell anyone about what was happening:
"The issue with him was that he was our boss. He was telling me, 'You can't tell anybody, this is illegal, I'll go to jail. The show will be over. Everybody will be sued. You'll be out of a job. You'll ruin everybody's life.' And it's scary. It's intimidating, especially when you're that young."
As Kelly repeatedly pointed out, Baio has vehemently denied Eggert's allegations against him. On Saturday, after Eggert tweeted "Ask @scottbaio what happened in his garage at his house when I was a minor. Creep," in response to a tweet about Baio, the actor made a 16-minute Facebook Live video in which he calls the allegations against him "untrue" and claims that he and Eggert did have intercourse, but it was after she was 18 (he would have been 30) and that she was the one who "seduced" him.
Watch Eggert's interview with Kelly below.