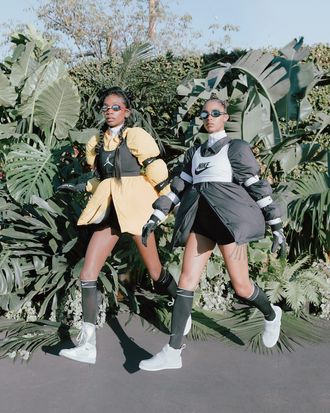 ABRA wears the AJ1 Explorer XX and Kelsey Lu wears the AF1 Explorer XX.
Female sneakerheads are often overlooked in a community rooted in male athletes and fueled by teenage boys. But Nike is trying to change that.
This fall, the brand invited stylist, model, and Instagram phenomenon Aleali May to be the first female collaborator on Air Jordans. In March, it will release three more exclusive styles of the Air Jordan 1s and the Air Jordan 12s. And today, it revealed its biggest undertaking yet: Nike 1 Reimagined, which offers ten totally new takes on the Air Force 1 and the Air Jordan 1 — two of the brand's most iconic sneakers.
This is the first time these styles have been reimagined for a female customer. The collection features other firsts as well, including the tallest stack height, the first mule style, and the first-ever corset lacing. The shoes were created by a team of 14 women who had two weeks and one objective: "Design some cool shit." The results are futuristic and weird, which is to say that they're perfect for 2018.
The collection's ten different styles were divided into five different archetypes: Explorer, Lover, Sage, Rebel, and Jester. Our favorite has to be the Lover, which includes the Air Force 1 mule. It's almost sacrilegious to chop up such a classic silhouette and turn it into a slipper, but we like a sneaker that caters to the woman who finds herself in bed often.
"We thought about the consumer going to brunch on a Sunday morning and wanting to wear something that was easy and comfortable," said lead designers Georgina James and Marie Crow of the AF1 Lover XX in particular. "But also when you wear it, you still look like you're put together."
See all the Nike 1 Reimagined styles below. Which one are you?