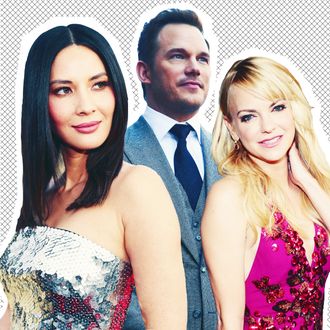 Olivia Munn, Chris Pratt, and Anna Faris.
Photo: Getty Images
Welcome to You Know What I Heard, the Cut's weekly celebrity gossip column about the peregrinations of the rich and famous. Have gossip? Email me at allie.jones@nymag.com, send me a message on Twitter, or contact me on Signal (ask for the number).
The first new, dramatic coupling of 2018 is: Olivia Munn and Chris Pratt. According to Entertainment Tonight, the 30-something superheroes were spotted on a "totally romantic" dinner date at paparazzi hotspot Craig's in West Hollywood last Friday. Except, according to Munn, they aren't dating. Or it's not what you think. On Sunday, she posted a series of Instagram Stories responding to the ET report and an OK! Magazine story from earlier this month that claimed Munn and Pratt were "secretly dating." I'm not sure anyone saw that OK! story, but Munn did, and she apparently texted Pratt's ex-wife Anna Faris about it right away. To prove it, Munn posted the text conversation, in which she told Faris, "the story about me and Chris dating has 0% truth."
Faris responded to Munn's text in her funny, flighty way, telling Munn not to worry about it and that she would love to be sisters-in-law. I don't think Faris understands what makes two women sisters-in-law, but whatever, she doesn't care! She's happily dating cinematographer Michael Barrett. If Munn and Pratt want to date, they can.
So are they dating? Pratt hasn't commented either way, but I'm getting a doth-protest-too-much vibe from Munn. Remember when she responded to plastic surgery rumors by posting an insanely long Instagram about how Japanese potatoes fixed her wrinkles? Maybe this is like that.
James Franco didn't get nominated for an Oscar, which means his appearance at the SAG Awards on Sunday was probably his last public outing for awhile. Franco didn't walk the red carpet before the show, leaving his sister-in-law Alison Brie to field questions about the sexual-misconduct allegations against him. He was photographed inside the ceremony, however, sitting next to his 24-year-old girlfriend Isabel Pakzad.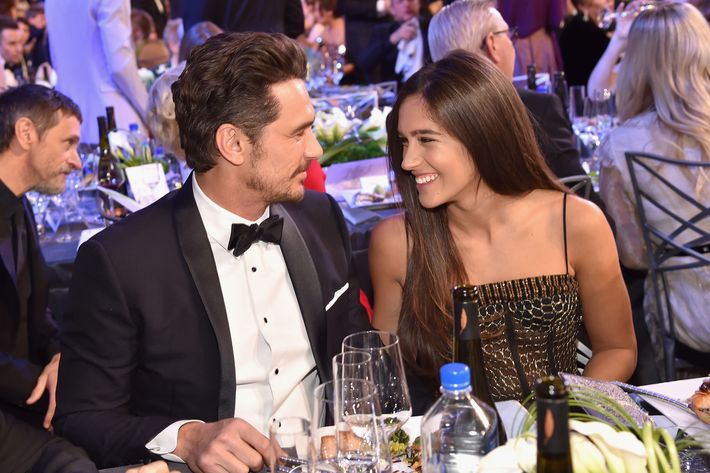 Franco confirmed his relationship with Pakzad in a Variety cover story at the end of November, just before he started his promotional tour and awards campaign for The Disaster Artist. In that profile, he said that he was a better boyfriend to Pakzad than he was to women in his past. At the time, it seemed like he was owning up to some jerk-y behavior and throwing Pakzad out in front of him in hopes that no one would ask more questions. A little over a month later, his 23-year-old ex-girlfriend Violet Paley told the Los Angeles Times that he pressured her to perform oral sex on him in 2016. She repeated her story on Good Morning America today, asking Franco to "please just apologize."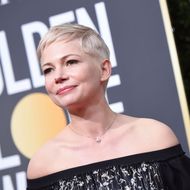 Michelle Williams is reportedly engaged to a 50-year-old "New York financier" named Andrew Youmans. News of the engagement broke last week, just a few days before the ten-year anniversary of Heath Ledger's death. I don't think Williams meant to time the reveal that way; tabloids just always seem to remember to check in on her relationship status when Ledger's name comes up.
Busy Philipps still seems to be the most important person in Williams's life, however: She flew to New York yesterday to spend the anniversary of Ledger's death with Williams. (We know because Philipps posted all about the trip on her Instagram Stories, as is her custom.)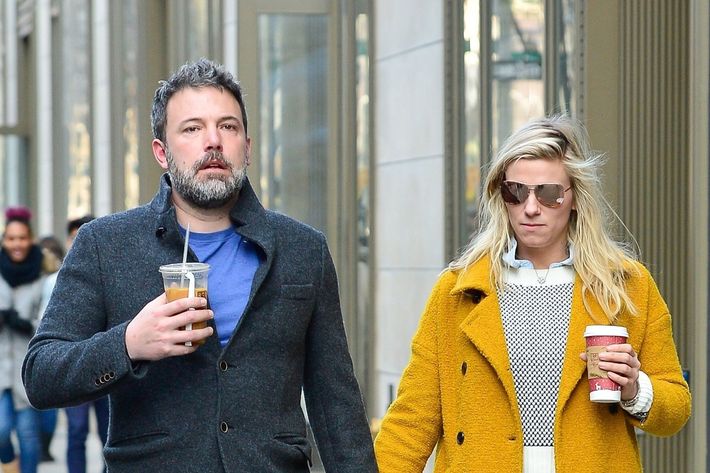 In other relationship news, Ben Affleck and Lindsay Shookus are going strong. They were spotted walking around New York a few times this past weekend (carrying iced coffees, of course). And Dakota Johnson and Chris Martin are getting more public about their relationship. According to People, they were hanging all over each other at Stella McCartney's fashion show in Los Angeles last week. "They walked in holding hands and Dakota was not letting go — she was super into the PDA," a source told the tabloid. "When Chris let go of her hand, she slipped her arm through his."
Leo DiCaprio, meanwhile, has been enjoying some vacation time with the newest member of his Pussy Posse, Orlando Bloom. The two celebrated Bloom's 41st birthday with a party full of models in Marrakesh last week.
One small blessing from this week:
Prince Andrew and Sarah Ferguson announced their daughter Princess Eugenie's engagement yesterday. Fergie celebrated the news by posting some incredible photos of the newly engaged couple overlaid with her own quotes about them on Twitter.
Eugenie and her fiancé, Jack Brooksbank, will get married in the fall at St. George's Chapel in Windsor, the same place Meghan Markle and Prince Harry are getting married in May.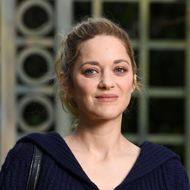 Finally, I'll leave you with an amazing quote from Marion Cotillard about her decision to work with Woody Allen on Midnight in Paris. Just about every actor who has worked with Allen is getting pressure to explain themselves now, and some have answered the question better than others. Cotillard's response was very good and very French.
"I didn't know much about his personal life, actually," she told The Hollywood Reporter when asked about the director last week. "I knew that he had married one of his daughters which I thought, honestly, was weird, but I cannot judge something I don't know."
A little weird, yes. Cotillard went on to say that she would not work with Allen again.
Thank you all for gossiping this week. Don't forget to email me at allie.jones@nymag.com, send me a message on Twitter, or contact me on Signal, if you'd like to chat.