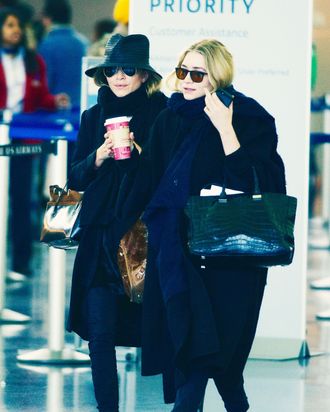 The Olsen twins.
Photo: Ron Asadorian / Splash News
Late last night, I found myself scrolling through the Instagram @OlsenInfluence, which claims to share "daily, rare, and latest Olsens." The account has over 54,000 followers, which is not a ton but also not a small number, so I was ashamed at myself for never having stumbled across it before. But this is the nature of the Olsen twins: they are needles in a haystack.
Any photo of the Olsen twins is a reminder of just how much they loathe being in the public eye. Attention is disgusting to them, which is why they rarely make appearances, and when they do, they tend to hide themselves behind enormous sunglasses, bags, and coats. Granted, they are also two teeny-tiny people, so everything looks oversize on them. But their style seems to be a reflection of their overall stance on life, which is: you cannot see me, and therefore you cannot have me.
Perhaps this explains why no one seems to have considered Mary-Kate and Ashley Olsen as replacements for Phoebe Philo at Céline, despite the fact that they are mind-bogglingly perfect for the job. This realization hit me like a ton of bricks at approximately 9:09 p.m. last night, and I did what most people do when they have a brilliant idea and no one to tell it to: I tweeted it. The responses I've gotten in the hours since confirm that this idea is not only brilliant, but also not something anyone else has thought of, either.
Of course, this idea is rendered moot by the fact that Hedi Slimane was announced as Phoebe Philo's replacement on Sunday. But I still think it's worth considering. After all, you never know how long that guy's gonna last.
First of all, the Olsen twins love Céline. They've been spotted wearing Céline sunglasses, carrying Céline bags, and bundling up in Céline coats. They fawn over Céline in interviews. (Hedi Slimane photographed them for this one.) Mary-Kate once told Vogue that she was wearing Céline sandals "because Ashley took mine," meaning a pair she'd designed for their label the Row. (They've also been spotted wearing Birkenstock sandals with socks, which feels extremely Céline.) They're a living, breathing Céline ad.
The Olsens stopped wearing so much Céline when they founded the Row in 2006. But that's because the Row looks a lot like Céline. This isn't a dig at the Row, just a testament to the fact that the Olsen twins and Phoebe Philo share an aesthetic. Descriptors of their clothes are interchangeable: they are un-fussy and sophisticated — casual, yet deeply luxurious. Most importantly, they are a reflection of what women want to wear "beyond the male gaze," or in the Olsen's case, beyond the attention of paparazzi.
Beyond fashion, the Olsens seem to have the right lifestyle to take over a French house like Céline. Mary-Kate is married to Olivier Sarkozy, the brother of the former president of France. And between the two of them, they smoke enough cigarettes to be given a French passport.
But it's too much work, you say. They aren't commercial enough, you say. Consider this, though: In addition to the Row, the Olsen twins also launched Elizabeth and James, a contemporary, more affordable line, in 2007. They've also been working since they were six months old. They can handle this.
Finally, they're the Olsen twins. We may not ever see and hear from them, but even after all this time, they still hold a special place in our hearts. (And on Instagram.) Even if millennial customers weren't born when Full House first aired, I can bet you they would buy whatever the Olsen twins are selling. Maybe not billions of dollars worth, like LVMH wants, but it would be so good. I'm sure of it.