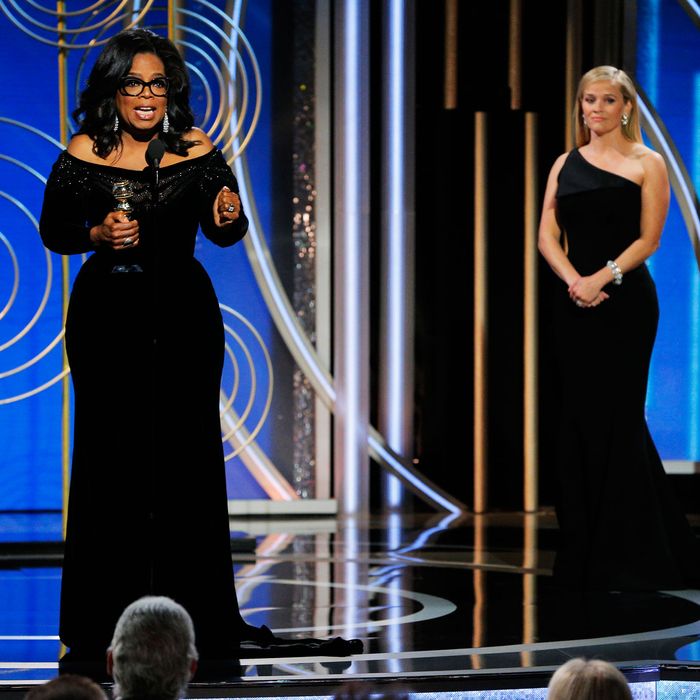 Oprah Winfrey giving an acceptance speech after receiving the Golden Globes' Cecil B. DeMille Lifetime Achievement Award for "outstanding contributions to the world of entertainment."
Photo: Handout/NBCUniversal via Getty Images
From its successful demonstration at the Golden Globes to its Legal Defense Fund of nearly $20 million, the Time's Up initiative has proven to be a powerful force since its launch on New Year's Day. On CBS's Sunday Morning, Oprah Winfrey sat down with the campaign's leaders to discuss the importance of coming forward, the culture of harassment, and the future of the movement.
The first question Winfrey posed was an organizational one. While more than 300 prominent women in Hollywood are behind the movement, the leaders on Sunday Morning were America Ferrera, Lucasfilm president Kathleen Kennedy, Natalie Portman, Shonda Rhimes, Tracee Ellis Ross, entertainment attorney Nina Shaw, and Reese Witherspoon.
"Who is the head of the group? And is it an organization? A movement?" Winfrey asked. Ross, the star of Black-ish, was the first to respond.
"At this moment it's a campaign," she said. "And we're all sort of workers among workers and women among women, sort of rolling up our sleeves and doing whatever sort of comes to the forefront."
Winfrey also probed into the women's personal experiences with sexual harassment, asking if certain incidents prompted them to lead the movement. Witherspoon was quick to agree and reference her assault at 16, and Ferrera followed with a statement about her assault and silence.
"I posted vaguely about an incident of when I was nine years old being assaulted by a man who I was then sort of forced to see afterwards for a long time," Ferrera said, referencing her #MeToo post. "And what struck me about my experience was his certainty that I would be silent. And he was right. He was right for 24 years."
At another point in the conversation, Ross admitted that she still struggles at times to speak up: "The thing that's always surprising to me: I am a strong, outspoken, powerful woman, and there are places and ways and times that I am even afraid to speak up. There are environments that we all work in that support a culture of harassment or a culture of any of those things."
Toward the end of the discussion, the women debated whether speaking up about past experiences of sexual misconduct could lead to a greater sense of empowerment or control. While Witherspoon said that she has not "gotten to that place yet," she added that she must speak up now — not just for herself, but for women who may lack the resources or power to do so.
"You know, we have public voices," Witherspoon said. "We have resources. But women who are workers in this country have nothing to gain in certain instances by coming forward. But we want to help."
Watch the full segment here.