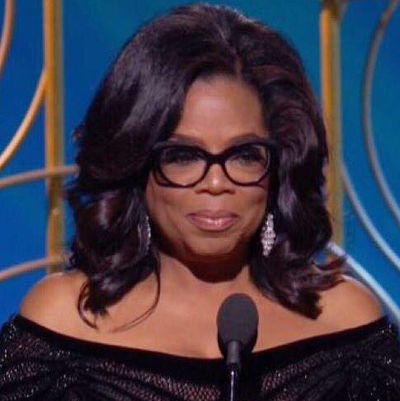 Oprah Winfrey.
Photo: Getty Images
On Sunday night, Oprah Winfrey became the first black woman to receive the Golden Globes' Cecil B. DeMille Lifetime Achievement Award for "outstanding contributions to the world of entertainment."
In a tremendously moving acceptance speech, Oprah talked about the emotional experience of watching Sidney Poitier become the first black man to win the Academy Award for Best Actor in 1964; she talked about Recy Taylor, a black woman from Alabama who was gang-raped by six white men in 1944 (white men who two grand juries failed to indict even after they admitted to the rape) and whose case was investigated by a young NAACP member named Rosa Parks; and she talked about hope, and a new day being on the horizon.
"Recy Taylor died ten days ago, just shy of her 98th birthday," Oprah said. "She lived, as we all have lived for too many years, in a culture broken by brutally powerful men. And for too long, women have not been heard or believed if they dared to speak their truth to the power of those men. But their time is up."
She concluded: "I've interviewed and portrayed people who have withstood some of the ugliest things life can throw at you, but the one quality all of them seem to share is their ability to maintain hope for a brighter morning, even during our darkest nights. So I want all the girls watching right now to know that a new day is on the horizon, and when that new day finally dawns, it will be because of a lot of magnificent women, many of whom are right here in this room tonight, and so many phenomenal men fighting hard to make sure they become the leaders who take us to the time when nobody ever has to say 'Me too.'"
Watch the full speech below.