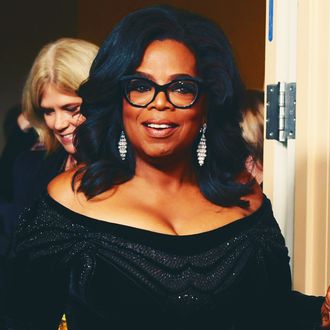 Oprah Winfrey.
Photo: Kevin Winter/Getty Images
On Sunday night, Oprah Winfrey's eloquent, emotional, and inspiring speech at the Golden Globes left many people wondering whether she had any plans of running for president.
After the speech, Oprah's longtime partner Stedman Graham seemed to stoke the fire when he told the Los Angeles Times of her potential presidential ambition, "It's up to the people. She would absolutely do it," he said. But when Oprah was told backstage that "Oprah 2020" was trending on Twitter, the 63-year-old billionaire denied she had any plans of running. "I don't — I don't," Oprah said, per Bloomberg. And maybe that's for the best.