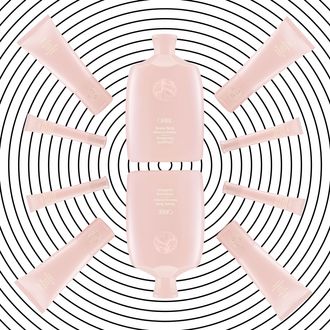 Luxury hair-care brand Oribe (pronounced or-bay) continues to be the guiding light for the hair-obsessed. The brand's latest is a dandruff shampoo you won't be embarrassed to display in your bathroom. The Serene Scalp line will include Oribe's Anti-Dandruff Shampoo, Balancing Conditioner, and Leave-On Treatment.
Like all other Oribe products, the packaging is sophisticated and fun. This line is housed in sleek, millennial pink-toned bottles. While the Serene Scalp products won't deliver pink hair like Kristin Ess's similarly packaged line, they do work in tandem to soothe the scalp, remove dandruff, and prevent irritation. All products contain a protective mixture of watermelon, lychee, and edelweiss flower extracts along with a hit of caffeine to promote healthy scalp circulation and rejuvenate hair follicles. The products are all vegan, cruelty-free, and gluten-free.
The new Serene Scalp Line will be available at Oribe and in select department stores on February 5.