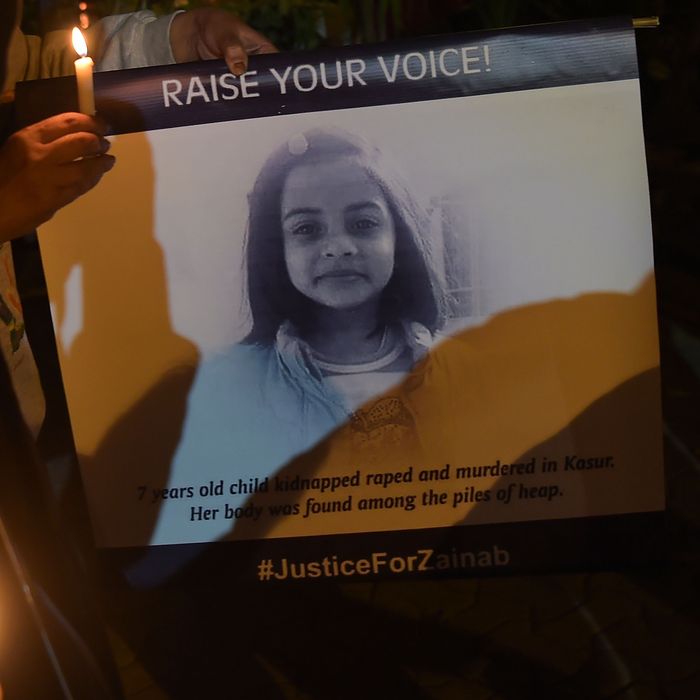 Zainab.
Photo: AAMIR QURESHI/AFP/Getty Images
The brutal kidnapping, rape, and murder of Zainab, a young girl from Pakistan, has prompted an outpouring of horror, anger, and sadness, both in Pakistan's streets and online. As locals have attended vigils and protests, holding candles and placards with pictures of her, more than a half-million people from around the world have turned to Twitter to demand #JusticeForZainab.
NPR reports that while Zainab's rape and murder instigated the demonstrations, they are focused on the larger issues of sexual assault and the murder of young girls in Punjab province. According to Pakistani newspaper Dawn, 11 young girls — 12, including Zainab — have been found murdered in that region. Various outlets have reported that Zainab is between 6 and 8 years old.
While Punjab's Chief Minister Muhammad Shehbaz Sharif reportedly told police to arrest the Zainab's killers in the next 24 hours, local authorities have reportedly done little to address the province's disturbing sexual assault and murder trends. Therefore, according to various outlets, locals are not particularly trusting of authorities.
In the three days since Zainab's body was found in a dump, over 600,000 people from around the world have stood with Pakistan, demanding #JusticeforZainab.
While there was a public funeral for Zainab on Wednesday, her father, Ameen Ansari, has said he "will not bury her until we get justice."
"It's like the world has ended," he told BBC. "I have no words."