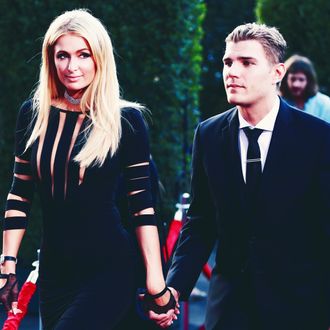 Paris Hilton and Chris Zylka.
Photo: Rich Fury/Getty Images
Like a page out of The Secret, forgetful DJ Paris Hilton recently put it out into the universe that she'd like to marry the same person three times in a row at various places across the world — and the universe apparently listened.
According to "Page Six," resorts across the world are now "clamoring" to host the Burning Man attendee's upcoming nuptials to Disney-style "Paris" tattoo-haver Chris Zylka. An insider explained to the gossip column, "She has so many friends around the world and doesn't think they can fit all into one wedding. She is getting calls from tons of wedding planners and resorts in the Maldives, Bora Bora, Fiji, Tulum [Mexico], Ibiza [Spain] and Hawaii."
At the moment, Hilton is planning to have a black-tie wedding in her hometown of Los Angeles — "with a red carpet and top entertainment" of course — as well as "more casual" weddings in Europe and the tropics. But given that the entire world seems to want to host one of her weddings, maybe she's going to need to have more than three?