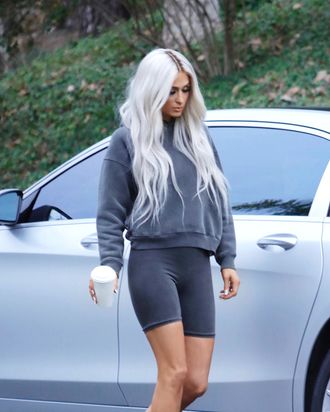 Paris Hilton as Kim Kardashian West.
Photo: Splash News/Splash News
Last spring, Paris Hilton told me that in comparison to her early-2000s heyday, it is "so easy" to become famous nowadays. "Anybody with a phone can do it."
While today's Hilton would never speak ill of her former BFF (and alleged personal assistant) Kim Kardashian West, I assumed that this was some lingering shade over Kardashian West's meteoric rise to fame on social media, which has far surpassed Hilton's. Hilton may have "invented" the selfie, but Kardashian West wrote the book on it. Kardashian West has 106 million Instagram followers to date; Hilton has 8.2 million. The assistant has become the master.
Hilton has finally conceded to this reality by not only "dealing with the devil," so to speak, but also dressing up as her. In December, Kardashian West modeled her husband Kanye West's Yeezy Season 6 lookbook via a paparazzi-style social-media campaign. And on Tuesday, Kardashian West revealed an army of Yeezy "Klones," one of which was Paris Hilton, who were enlisted to to re-create these images and share them with their online following. Was it "genius," as so many are saying? Yes. But was it also diabolical? For sure.
Hilton was photographed wearing two different Yeezy looks with platinum blonde hair like Kardashian West's, rendering her almost unrecognizable. In an accompanying caption, Kardashian West refers to Hilton as "the OG," which may read as kind, but is about as generous as giving someone a breath mint. Kardashian West giveth and she taketh away. This was check and mate. In that moment, Juicy Couture tracksuits became ancient history. The future is Yeezy.
Looking back, there was absolutely no way in hell Kardashian West was going to let Hilton run around town claiming that she started it all. She needed to put an end to her sisters dressing up like Hilton — and not the other way around — with Kylie wearing Juicy tracksuits and Kendall re-creating her early-2000s party looks. (Not to mention all their famous friends doing the same.)
The Kardashians do not linger in the past; you have to keep up with them. They remain relevant by constantly reinventing and pushing the limits of celebrity, and there is no better example of this than the Yeezy Season 6 campaign.
To me, the most amazing thing about the Yeezy Season 6 campaign is not that it makes Fashion Week and runway shows seem utterly archaic. (We knew that.) Rather, that Kim Kardashian West and her Klones have somehow made us forget it's ultimately in service of Kanye West and his clothing line. (Kanye was most recently spotted in Berlin eating alone at a restaurant.) In this same vein, we also seem to have forgotten that this campaign is "most certainly illegal," according to Julie Zerbo of The Fashion Law, simply because it is an undisclosed advertisement.
Maybe it's not that we've forgotten, though. Maybe it's that we just don't care anymore. In 2018 — 15 years after the premiere of the Simple Life — our perception of reality is so warped that we have to squint our eyes to tell if someone is Kim Kardashian West or not. And if everyone looks like Kim, then she's the only true celebrity. We all work for her now, Paris included.