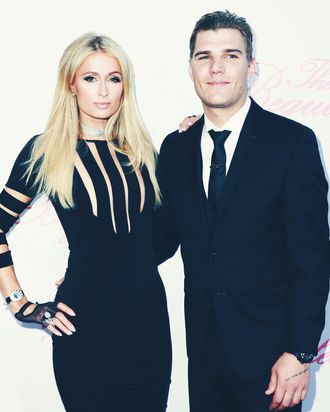 Paris Hilton and Chris Zylka.
Photo: Rich Fury/Getty Images
Celebrated DJ Paris Hilton got engaged just before the New Year, according to an exclusive announcement in People this morning. She is marrying her boyfriend of two years, Chris Zylka. (He was in The Leftovers and has a tattoo on his arm that says "Paris" in "Disney font.") Hilton told the tabloid, in her signature patter of bubbles and rainbows, "I am so excited to be engaged to the love of my life and my best friend. I have never felt so happy, safe and loved. He is perfect for me in every way and showed me that fairytales really do exist!"
Hilton also provided People with beautifully staged photos of the proposal, which happened on a ski mountain in Aspen, Colorado. Please click here to see the magic in action. The Sun also has close-up shots of Hilton's new, massive diamond ring.
Hilton and Zylka spent New Year's Eve in Aspen with a cast of characters including Rita Ora and Sofia Richie. "Sources close to Hilton" told People that they "have never seen her so calm, happy, secure and at peace."