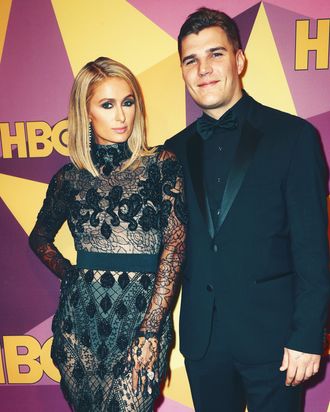 Paris Hilton and the guy she is marrying.
Photo: Frederick M. Brown/Getty Images
International pop sensation Paris Hilton would like to marry the same person three times in a row, so that as many people as possible can witness and share in her love. At least, that's the plan right now. In a new interview, she told Extra of her vision, "For my 21st birthday I had five parties, so maybe for the wedding I'll have a European one, an American one, one for everyone around the world." According to Hilton, all three celebrations will happen "soon."
Three weddings sound fine, to me, for Paris Hilton. Three dresses. Three cakes. Three vow readings including words like "fantasy" and "bubbles." Why not? When Hilton's fellow heiress Hannah Bronfman got married last year, she had seven dresses.
Does Hilton's fiancé approve of three weddings? He hasn't said, but my guess is he approves of it all. He is an actor named Chris Zylka (My Super Psycho Sweet 16: Parts 1, 2 and 3), and he proposed to Hilton with a $2 million diamond ring in Aspen over New Year's. "Paris is the most beautiful and incredible woman both inside and out," he told People right after he popped the question. Three cheers.