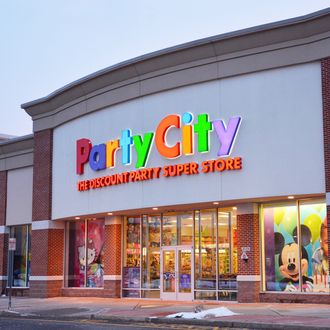 Party City.
Photo: Moment Editorial/Getty Images
Party City apologized on Monday after referring to gluten-free people as "gross" in a Super Bowl–themed commercial.
The ad in question was for Food Network host Sunny Anderson's inflatable snack stadium — quite literally an inflatable table-size football stadium in which you can put sports-related snacks. As People reports, the commercial featured two women in a room discussing a large snack table at a Super Bowl party.
Referring to a single plate of food residing on a separate stool, one woman said in the ad, "Those are some gluten-free options." The other replied, "Do we even know people that are like that?" The first woman then responded, "Tina," and the second said, "Oh, gross, yeah."
The commercial sparked outrage on social media from those with food allergies and celiac disease, which causes a severe autoimmune response to gluten.
In a Monday statement, Party City apologized for the commercial and explained that the ad has been removed from its website and all other channels. The company also noted that Sunny Anderson was not involved with the creation of the ad in any way. "We will also be reviewing our internal vetting process on all advertising content to avoid any future issues," the statement reads. "In addition, Party City will be making a donation in support of Celiac Disease research."