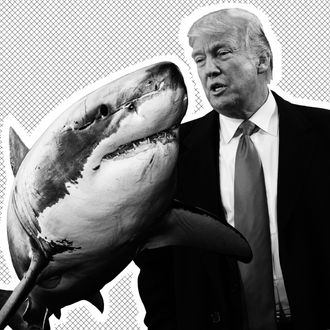 Anonymous shark, Trump.
Photo: Getty Images
Donald Trump dislikes many things, among them: the haters, the losers, and … sharks. Yes, among the many salacious details revealed in adult-film star Stormy Daniels's recently published 2006 interview with In Touch Weekly was that she said he spent time during their alleged sexual encounter complaining about sharks. "He is obsessed with sharks. Terrified of sharks," she revealed at the time. "He was like, 'I donate to all these charities and I would never donate to any charity that helps sharks. I hope all the sharks die.'"
It turns out that the president's hatred of sharks has inadvertently helped these majestic beasts of the ocean. Much like people donating to Planned Parenthood en masse in Mike Pence's name, MarketWatch reports that shark charities are now receiving donations on behalf of Trump.
They specifically spoke to the Atlantic White Shark Conservancy and Sea Shepherd Conservation Society, with Captain Paul Watson, the founder of the latter, saying that "anything that focuses attention on the plight of sharks worldwide is valuable, so I guess in that way the president did good service."