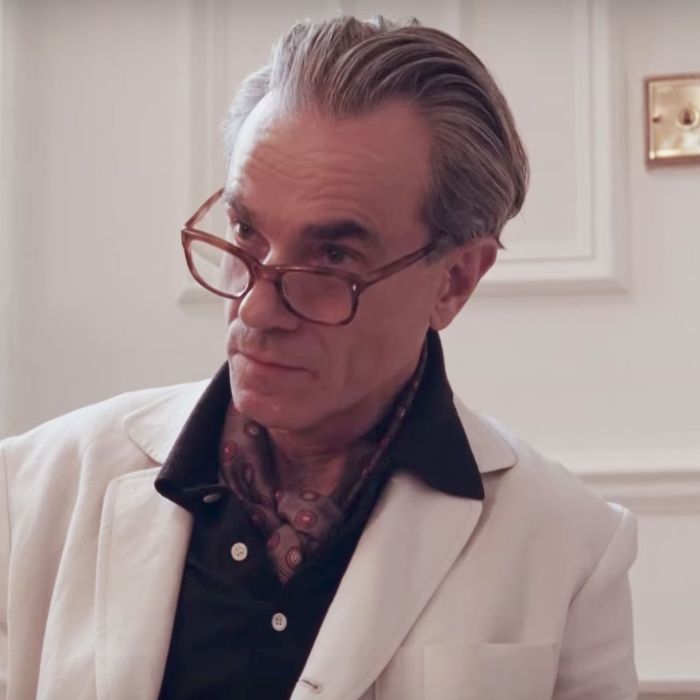 James Woodcock played by Daniel Day-Lewis.
Photo: Focus Features
The Cut's ever-growing list of words and phrases to avoid include fashion clichés such as "iconic," "glam," and "fierce." Clothes are not to possess a "pop of color," nor be described as "forgiving." One does not "step out" wearing anything.
The word "chic" has so far escaped this list. But Phantom Thread — the new film directed by P.T. Anderson starring Daniel Day-Lewis — offers a convincing case for why it should be at the top. The anti-"chic" tirade Day-Lewis delivers is arguably the new "cerulean blue" speech.
Day-Lewis plays a scrupulous, stubborn, breathtakingly self-absorbed British designer named Reynolds Woodcock, whose work is coveted by wealthy Europeans, particularly London's elite. (Anderson was originally inspired by a biography of Cristobal Balenciaga, but London couturier Charles James is also an influence.)
Not to give too much away (ahem, spoilers), but at one point late in the movie, Woodcock notices that one of his regular clients hasn't returned in a while. He inquires about her absence with his sister Cyril (Lesley Manville), the person who keeps the fashion house and home — as well as Woodcock himself — functioning. Cyril, knowing her brother's "fussiness," has hidden from him that this particular customer has chosen to get her dresses from another house.
"Is there something I'm unaware of?" Woodcock responds. "Because as far as I can remember, all I've done is to dress her beautifully."
"I don't think that matters to some people," Cyril replies matter-of-factly. "I think they want what is fashionable and chic."
This is when Woodcock really loses it.
"Chic? Oh, don't you start using that filthy little word," he says, raising his voice. "Chic! Whoever invented that ought to be spanked in public. I don't even know what that word means! What is that word? Fucking chic! They should be hung, drawn, and quartered. Fucking chic."
Cyril remains unemotional. "It shouldn't concern you," she says, trying to end the matter.
But of course it concerns Woodcock, whether it should or should not, because he takes this as a personal rejection. It "hurts his feelings," as he says. Woodcock's work is the entire essence of his being. So, if you're going to ruin his day and quite possibly his entire life, as he says during another of the film's fabulous tantrums, you better have a bloody good explanation. "Chic," meanwhile, doesn't even make an effort to explain; it's vague, subjective, and therefore maddening to Woodcock, who is not only always right, but also always in control of everything — even of his insults.
So next time you feel inclined to use the word "chic," think of the wrath of Woodcock, and employ his preferred descriptor, one that is impossible to misunderstand: Good.