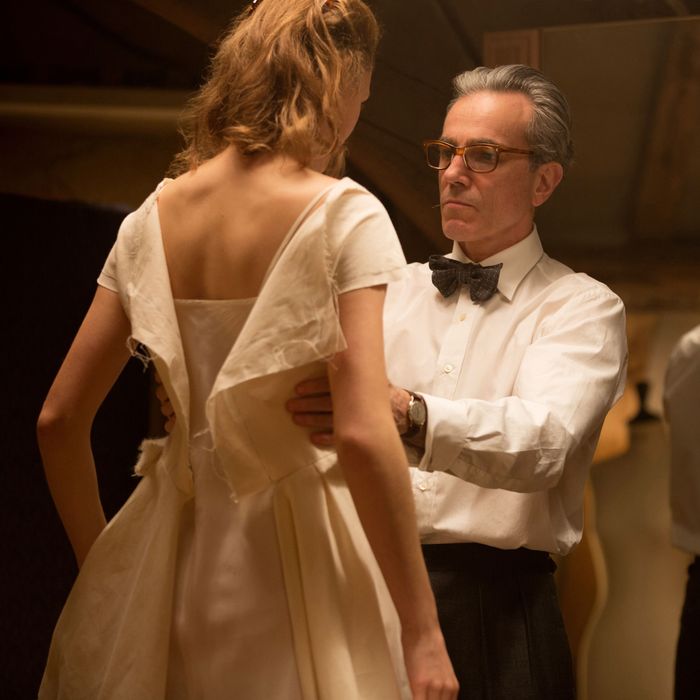 Vicky Krieps (left) stars as "Alma" and Daniel Day-Lewis (right) stars as "Reynolds Woodcock" in writer/director Paul Thomas Anderson's PHANTOM THREAD, a Focus Features release.
Photo: Laurie Sparham/Focus Features
Shopping is arguably an activity best done alone. You can move at your own pace, make your own decisions, and avoid feeling ashamed about spending (or not spending) money. That being said, Daniel Day-Lewis is perhaps the only person in the world we wouldn't mind having as a companion.
According to Phantom Thread costume designer Mark Bridges, the actor — who plays designer Reynolds Woodcock in the film — had strong opinions on fashion, much like his character, and purchased many of his costume pieces himself. He knew exactly what he wanted and where to get it, down to the socks on his feet, which he requested from Rome's Gammarelli's, the official tailor of the pope.
In an interview with the Cut a few weeks prior to the film's release, Bridges recalled going on an "incredible" shopping spree around London with Day-Lewis:
We chose fabrics together. I sat in on the fittings at Anderson and Sheppard. I was there to make sure that they adjusted their style of making so that the trousers reflected a fifties shape. We went shopping together several times to some of the better men's stores in London on Savile Row, buying things like pajamas and neckties and sweaters. We went to the hat store together … It was really fun and enlightening to see what his taste was for the character and an immersion for me into that world of British menswear. It was really an incredible experience.
The image of Daniel Day-Lewis peering over his glasses to inspect shirt sleeves or trying on a hat in a store is almost as satisfying as the film itself. But what kind of shopper is Day-Lewis? Does he linger, or go in immediately for the kill?
"He's somebody — like me — we have an idea of what it should be, and then we look for that," says Bridges. "We don't go to the store to get an idea; we come into the store with an idea, and they either have it or they don't."
So, Daniel Day-Lewis, please let us know next time you're browsing around Soho, New York.