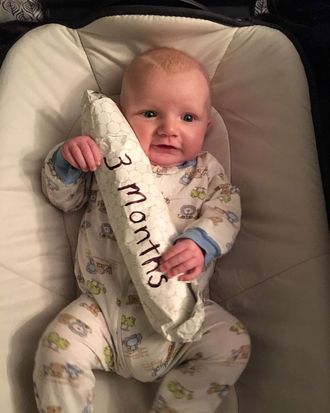 3-month-old baby with cheesesteak.
Photo: Brad Williams
Gone are the days when parents would measure their kids' growth by making marks on the walls. Instead, one chill dad has started tracking his baby's size through delicious food — specifically, Philadelphia's favorite cuisine: cheesesteaks.
Brad Williams is a computer programmer by day and apparently a super-chill cheesesteak-enthusiast father by different time of day. According to Philly.com, Williams implemented a system he calls "Cheesesteak for Scale" to measure the growth of his son Lucas Royce's first year.
The Philadelphia resident came up with his system one night in 2015 after bringing home a cheesesteak for dinner, at which point he noticed his 2-week-old son was "very similar in size" to the sandwich. "I took a picture showing the Cheesesteak for Scale and my friends and family absolutely loved it!" Williams told Philly.com. "The tradition was born!"
The dad then proceeded to document Lucas's growth through cheesesteaks, which he published on his blog here, and eventually noticed just how similar they are to babies. "Wrapped up they are warm and cuddly, but once you unwrap them, expect a huge mess. Either way, both are worth it," he explained.
Never fear, your other favorite food (burritos) have already been put to good baby-measuring use in Seattle.