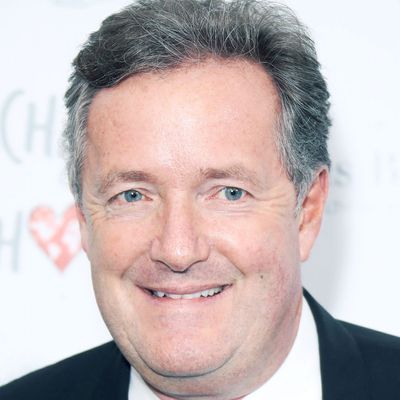 Piers Morgan.
Photo: Mike Marsland / Contributor/2017 Mike Marsland
An ad campaign for Victoria Beckham's latest eyewear collection has drawn swift backlash for using extremely thin models. One picture in particular, featuring Lithuanian model Giedre Dukauskaite, has come under fire for promoting unhealthy body ideals after Beckham posted it to her social-media accounts last week.
One of the outspoken critics is Piers Morgan. Yes, the same guy who offered to buy Kim Kardashian clothes after she posted a nude selfie. Morgan said that he had previously written about Beckham's use of thin models in 2015, after she was criticized for using waiflike models in her runway show. The noted bad-opinion-holder voiced at least one rare good opinion in a column for the Daily Mail. Per the Daily Mail:
I don't blame the model, Giedre Dukauskaite. For all I know, she's perfectly healthy.




But the way she's been dressed and photographed for this campaign is deliberately intended to propagate a message that painfully thin is good.




And I'm sorry, but it's not.
Morgan also wrote that he has spoken with Beckham personally about criticism of her own weight. However, he called Beckham's continued use of models who appear underweight a "cynical, commercially ruthless, and morally reprehensible decision by someone who should, and does, know better."
This criticism comes several months after luxury conglomerates LVMH and Kering (neither of which have a stake in Victoria Beckham) pledged to stop hiring underweight models. Similarly, the U.K. has cracked down on using ultrathin models, and in 2016 banned a Gucci ad, labeling it as "irresponsible."