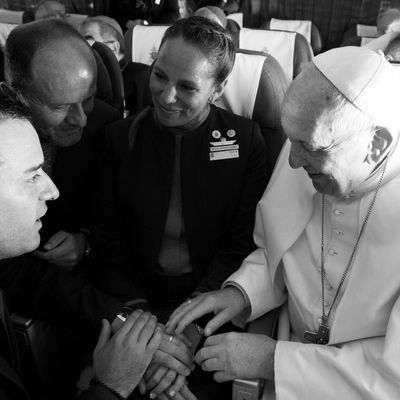 Far left: Carlos Ciuffardi. Center: Paola Podest. Right: Pope Francis.
Photo: Abaca Press/Sipa USA via AP
Dearly beloved, we are gathered here today to talk about the Pope surprise marrying a couple on a papal plane. (It's cool, he just got ordained online.)
The nuptials occurred on a flight from Santiago to Iquique, in Chile. When two flight attendants — Carlos Ciuffardi, 41, and Paola Podest, 39 — asked for a picture with His Holiness, he asked them if they were married. They shared that they were wed in a civil ceremony, but not in the Catholic Church; their church had collapsed on their planned wedding day in 2010 because of an earthquake. So Pope Francis, who we know loves to party, made it official.
"We can't believe the Pope married us," Carlos told the press. "A pope has never married anyone on a plane."
Here's hoping he hits up a Vegas chapel next.