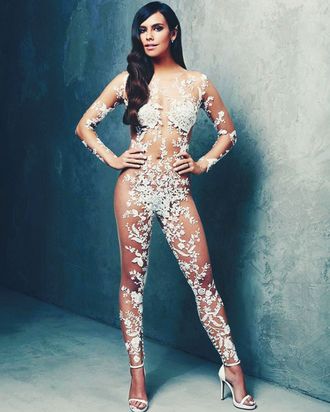 Cristina Pedroche in Pronovias.
Photo: Courtesy of Instagram/cristipedroche
Brides, you know how it goes. You're planning your wedding day and all you want is to be basically-but-not-totally naked as you walk down the aisle, and every wedding dress you find simply has too much fabric. But now, you're in luck, because Pronovias has finally designed a sheer bridal jumpsuit.
The Spanish bridal house recently shared images on Instagram of model Cristina Pedroche in their sheer design, who opted to wear it to a New Year's Eve party instead of an actual wedding. Unfortunately, the jumpsuit in question was commissioned by Pedroche, so it's one-of-a-kind, but we're sure it's simply a harbinger of similarly naked-esque bridal outfits to come.
The design house noted that the jumpsuit features more than 200 crystals embroidered into lace and Chantilly, and that it took the team more than 244 hours to make. Wow, so much effort for near nudity.