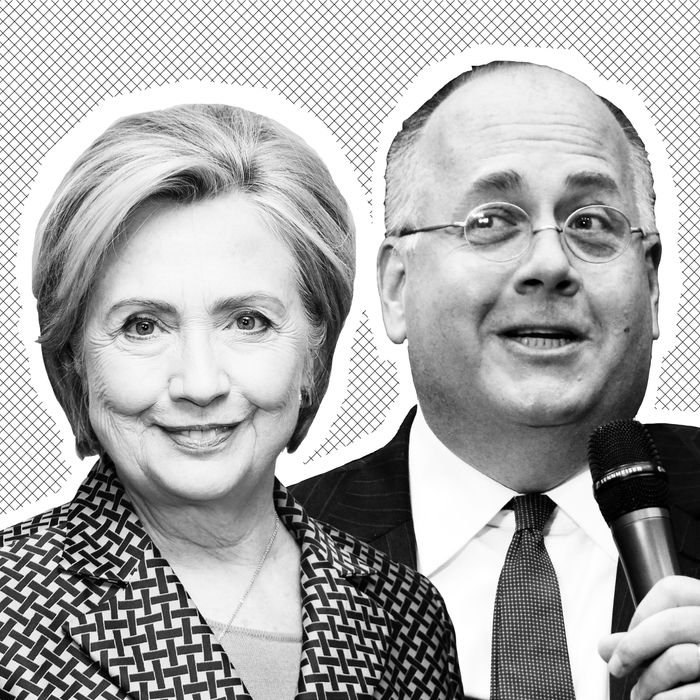 Hillary Clinton and Burns Strider.
Photo: Getty Images, Rogelio V. Solis/AP
A bombshell new report from the New York Times claims that Hillary Clinton protected an adviser on her 2008 campaign after he was accused of repeated sexual harassment.
The staffer in question is Burns Strider, who served as senior adviser and faith outreach director and whose job entailed, in part, sending Clinton Bible quotes every morning. Sources said that the accuser was a 30-year-old subordinate who shared an office with Strider; she signed an NDA and therefore couldn't comment on the issue, but allegedly "told a campaign official that Mr. Strider had rubbed her shoulders inappropriately, kissed her on the forehead and sent her a string of suggestive emails."
Per the Times:
Mrs. Clinton's campaign manager at the time recommended that she fire the adviser, Burns Strider. But Mrs. Clinton did not. Instead, Mr. Strider was docked several weeks of pay and ordered to undergo counseling, and the young woman was moved to a new job.
"To ensure a safe working environment, the campaign had a process to address complaints of misconduct or harassment," the law firm that represented the 2008 campaign said in a statement to the Times. "When matters arose, they were reviewed in accordance with these policies, and appropriate action was taken. This complaint was no exception."
A few years after his work on the Clinton campaign, Strider went to work for David Brock's organization, Correct the Record, only to be fired months later, allegedly for being accused of harassment.
Along with this new report, the question of whether or not Hillary Clinton had knowledge of the alleged sexual assaults her husband Bill Clinton is accused of — long a topic of debate — has been brought to the surface once again in the wake of the #MeToo movement.