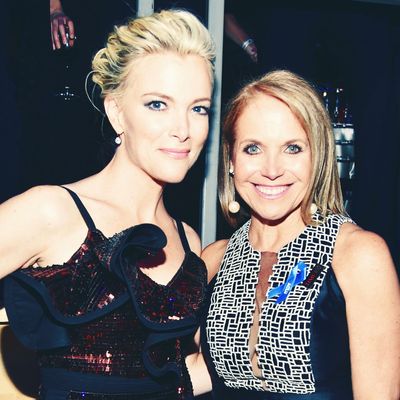 Megyn Kelly and Katie Couric.
Photo: Patrick McMullan/Patrick McMullan via Getty Image
Welcome to a special Olympics-themed episode of Megyn Kelly v. NBC. This week, "Page Six" reports that Kelly is at odds (once again) with the higher-ups at her network because they gave next month's Winter Olympics anchoring gig to Katie Couric instead of her.
Kelly allegedly "threw an Olympic fit" over the news, which seems bizarre, because according to one source, when the former Fox News host signed her $23 million contract with NBC last spring, she insisted on including a clause that said she could not be required to do any special events, such as, say, the Winter Olympics.
After Matt Lauer, NBC's usual Olympics host, was fired from the Today show in November amid allegations of sexual assault, Kelly reportedly thought the job would go to her. Instead, it went to Couric, who left the network back in 2006. According to one source:
"[Kelly] complained to her staff, she complained to her agent, so that [NBC News chairman Andrew Lack] would hear about the fact that she was unhappy, but he didn't care."
The same source said Lack has realized that Kelly is a "diva" and "she's not going to be part of the NBC News … inner circle."
Another source insists, however, that "no one at NBC has ever heard him [Lack] ever use the word 'diva' about anyone," and that there's "zero truth" to the rumors because "[the opening ceremony is] the least desirable gig in broadcasting, given the inevitable brutal reviews."
Stay tuned for next week's episode, where Kelly will find exciting new ways to alienate either her bosses or her guests.