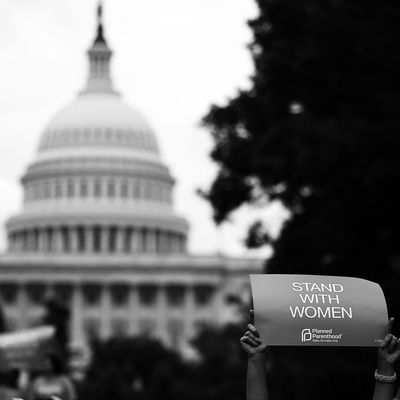 Photo: Mark Wilson/Getty Images
A bill that would ban most abortions after 20 weeks of pregnancy failed in the Senate on Monday by a vote of 51 to 46, the New York Times reports.
The House of Representatives passed a similar bill in October, and Republican Senator Lindsey Graham of South Carolina sponsored the Senate version named the Pain-Capable Unborn Child Protection Act. It needed 60 votes to pass, and President Trump said he would have signed it.
As expected, most senators voted along party lines except for Republicans Lisa Murkowski and Susan Collins, who voted against the bill. Democrats Joe Donnelly, Joe Manchin, and Bob Casey voted for it. The vote was interpreted as a way to make vulnerable Democrats facing reelection record a vote on the issue.
But the bill is also part of a ongoing campaign from pro-life groups to restrict abortion access. Anti-abortion groups claim fetuses feel pain at 20 weeks although doctors dispute this. Seventeen states currently prohibit abortion at 20 weeks. Nine states require a second physician to confirm the abortion is medically needed.
In a statement following the vote, President Trump doubled down on his pro-life stance. He cited the widely disputed science.
"It is disappointing that despite support from a bipartisan majority of U.S. senators, this bill was blocked from further consideration," Trump said in a statement. "The vote by the Senate rejects scientific fact and puts the United States out of the mainstream in the family of nations, in which only 7 out of 198 nations, including China and North Korea, allow elective abortions after 20 weeks of pregnancy. We must defend those who cannot defend themselves. I urge the Senate to reconsider its decision and pass legislation that will celebrate, cherish, and protect life."