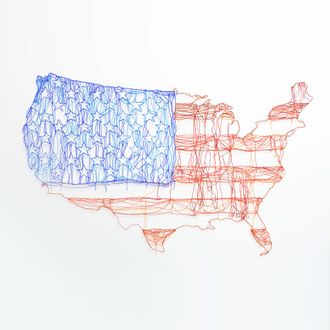 Photo: Mina De La O/Getty Images
Spotting Republican women will be easy tonight at President Trump's first State of the Union address, and it won't be because of their hair. In response to the Democrats' plan to wear black, every Republican from cabinet members to senators plan to look their most patriotic in red, white, and blue. The color scheme is to show their military support as Trump updates the country on what he's accomplished during his first year in office.
Nancy Pelosi and other Democrats are planning to wear black to the event. Like female Golden Globe awards attendees earlier this month and Grammy guests on Sunday, they're showing solidarity with victims of sexual harassment and violence as part of the Time's Up and Me Too movements. "Time's Up" pins will also make the silent protest more clear.
Democratic congresswomen are bringing sexual-assault survivors as their plus ones, but some party members are opting out of the event altogether. California representative Maxine Waters and Supreme Court justice Ruth Bader Ginsburg, who recently shared her own experience with sexual harassment in the workplace, are sitting this one out.
Republican Indiana congresswoman Susan Brooks isn't picking sides. She agreed to honor both efforts by wearing all the colors — black, red, white, and blue.
According to Republican Martha McSally, the patriotic idea to honor the flag and troops came together via e-mail from a female house member. It is unknown if Kellyanne Conway's inauguration look was included as inspiration.