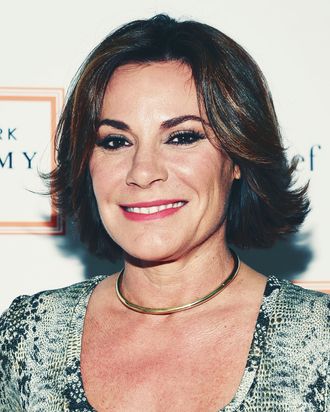 LuAnn de Lesseps.
Photo: Mike Coppola/Getty Images
Last week, (former countess) LuAnn de Lesseps announced she was checking herself into rehab after getting arrested for allegedly drunkenly trespassing in a hotel room (with a man!) and subsequently assaulting a police officer. Now, the Real Housewives of New York star has entered a not guilty plea in Florida court.
As Us Weekly reports, de Lesseps entered her plea in Florida court on Friday, the same day she released her statement about going to an alcohol treatment facility. She had been charged with disorderly intoxication, battery on a law enforcement officer, resisting arrest with violence, and two counts of corruption by threat.
De Lesseps and a man (who happens to be an ex, but NOT Tom, thank God!) allegedly entered a Colony hotel room in Palm Beach as a maid was doing turn down service the weekend before Christmas. However, de Lesseps was registered to a different room at the hotel, and was discovered in bed with the man by a security guard. She allegedly refused to leave. When cops showed up, the 52-year-old apparently shoved one of them in the chest and slammed a door in his face. She also allegedly told cops she was "going to fucking kill all of you."
The Real Housewife later apologized for her behavior, and said she is "committed to a transformative and hopeful 2018."