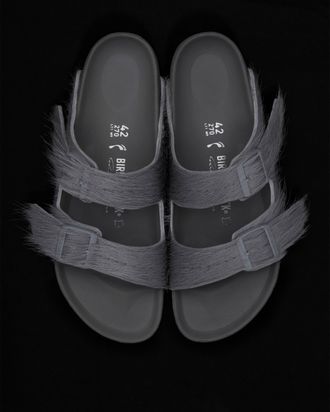 Photo: Courtesy of Birkenstock
Let it be known that I'd like to be buried in the Rick Owens Birkenstock Box, which will set up shop in front of the designer's Los Angeles store on La Brea Avenue this April.
Constructed by the Berlin-based architecture studio Gonzalez Haase AAS, the mobile store will consist of two converted freight containers, which will be painted white in keeping with the designer's aesthetic. The interior space is designed by Owens himself; he has a long history with creating pieces other than clothes, ranging from sculptural furniture to dessert spoons made of bone.
In a statement provided by Birkenstock, Owens offers a characteristically stoic explanation for his collaboration with the German footwear brand: "I like a steady original invested in the long game," he said. Coincidentally, this is also good dating advice.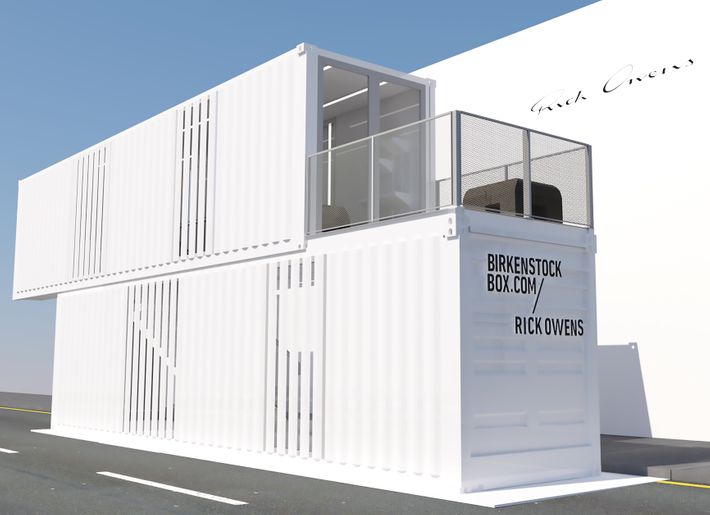 Inside, visitors will find a limited collection of Birkenstock styles, along with a curated assortment of Rick Owens looks, objects, furniture, legwear, and accessories. As for the shoes, Owens has re-created three classic Birkenstock sandals in four different fabrications, including army felt, suede, full-grain leather, and — our favorite — longhair cow fur.
These hairy slides are the inevitable next step in "ugly" footwear, but are almost too precious to wear — like a piece of art. (They look a lot like Meret Oppenheim's famous furry cup, saucer, and spoon, as one writer on Twitter pointed out.) Perhaps you can keep them as a pet, instead.
The Rick Owens Birkenstock Box is open to the public April 17. Bespoke Rick Owens x Birkenstock styles will be available for preorder starting April 2 and launch on all Rick Owens and Birkenstock channels on April 17, 2018.