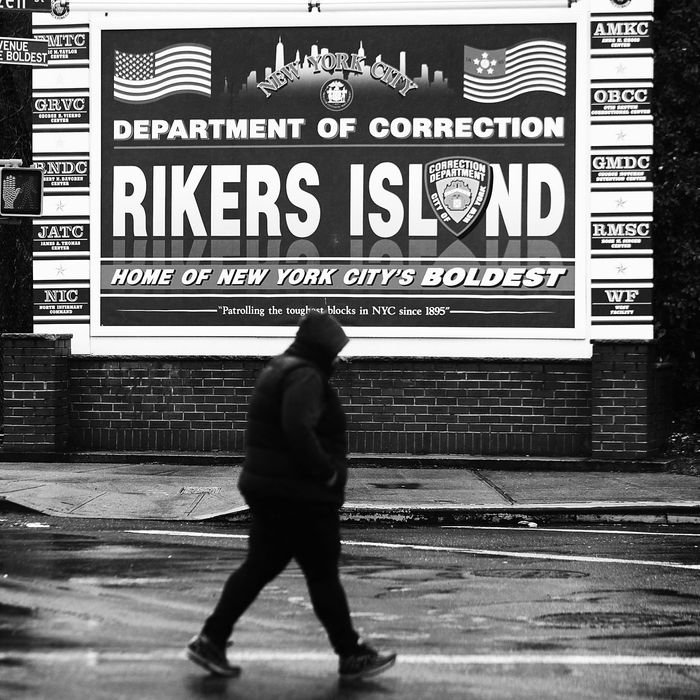 Rikers Island.
Photo: Spencer Platt/Getty Images
Rikers Island correctional officers are allegedly taking female visitors into bathrooms to illegally strip-search and sexually assault them, according to In Justice Today. The report is based on new information from the Jails Action Coalition and five women who filed notices of claim, in which they allege that guards at Rikers sexually violated them in bathrooms.
New York personal injury attorney Alan Figman represents 45 clients who claim they were sexually abused while visiting at Rikers. He told In Justice Today that guards are reportedly taking female visitors into the bathroom, where there are no video cameras.
One visitor (who requested to be identified by the pseudonym "Ms. K") recalled signing a form to consent to a search, and then being told to expose her breasts and unbutton her pants in the bathroom at Rikers.
"If you could imagine giving someone a handshake, like how you push your hand up and down? [The guard] put her hand in my pants and rammed it up against my vagina," Ms. K told In Justice Today. "Then she went around and pulled my underwear up and gave me a wedgie on my genitals. I couldn't believe this was happening. I was in shock."
Sexual abuse is rampant in the U.S. prison system, and according to a 2014 report by the Justice Department's Bureau of Justice Statistics, nearly half of the accusations are against prison guards and staff.
In January 2017, the Intercept published an investigation into the disturbing trend of Rikers guards unlawfully strip-searching visitors. At the time of publication, 27 women had filed or were in the process of filing lawsuits that accused the Department of Correction of highly invasive strip-searches. According to In Justice Today's report, similar sex crimes are now occurring in bathrooms.
"These women are being completely violated," Figman said. "In some cases it's because they're being retaliated against for something the inmate has [allegedly] done."
Read the full report here.