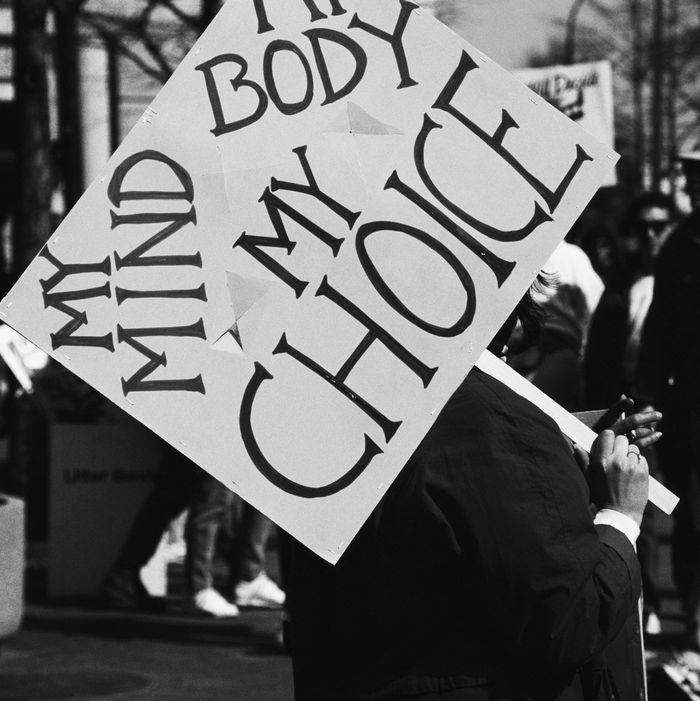 Photo: Alfred Gescheidt/Getty Images
It's been 45 years since the Supreme Court ruled seven to two in favor of Norma McCovery, a.k.a. Jane Roe, to declare the criminalization of abortions unconstitutional. In celebration of the momentous occasion, here's a list of the Cut's best stories on the decision and its impact.
The 200-Year Fight for Abortion Access
We tend to take reproductive rights for granted, but from a historical ­perspective, they were won almost yesterday.
An extensive look at the history of abortion from the 1820s to 2016.
4 Women on Having Abortions Before They Were Legal
"I just remember thinking, I'm going to get through this."
Four women who received abortions between 1950 and 1963 discuss their experiences and the distances they had to travel to get the procedure done.
Warning: Abortion's Deadly DIY Past Could Soon Become Its Future
And overturning Roe might not even be the endgame.
"It's easy to forget that it wasn't so long ago that abortion was illegal; it wasn't so long ago that contraception was illegal. And women suffered for it." Writer Rebecca Traister discusses the dark past of abortion and the possibility of an equally dark future.
The Lawyer Who Argued Roe v. Wade Sees Frightening Parallels Between Now and When Abortion Was Illegal
Dr. Sarah Weddington chats with the Cut about reproductive rights.
"Right now, nothing has changed," Weddington said in an interview after Trump's election. "And so once Trump is president, and once Pence does occupy the [president of the Senate's] chair, then you've got the possibility for dramatic change."
This Is 40: Checking Up on Roe v. Wade
The post-pro-choice abortion rights movement.
Five years ago, on the decision's 40th anniversary, writer Kat Stoeffel caught up with the Supreme Court decision, reporting on a Pew Research Poll that found that over 50 percent of Americans under 30 don't know that Roe v. Wade is about abortion rights.
3 Women on Banning Abortions for Down Syndrome
Three women who received prenatal diagnosis for Down syndrome discuss their views.
Writer Jen Gann talks to three women who received a prenatal Down syndrome diagnosis about the decisions they made next.
How to Plan an Abortion in the Surveillance State
Googling and texting are second nature to most of us, but thinking about how to secure communication isn't.
After the terrifying case of Purvi Patel, who was convicted of feticide and child neglect in Indiana after her text messages were used as evidence against her, writer Lisa Ryan gives tips on protecting yourself when considering an abortion.
The Divided States of America
Don't assume you know your rights.
An interactive map to help you learn what reproductive rights you have (or don't have) in your state.
The Year New York Almost Lost the Right to Choose
Politics and service journalism from the early era of legal abortion.
Writer Christopher Bonanos tells the story of 1972, when a bill to re-prohibit abortion passed through the New York Assembly and Senate before it was vetoed by then-Governor Rockefeller.
Fifteen Women (and a Few Men) on Aborting
Relief, regret, and everything in between — or nothing at all.
What is it like to have an abortion? Writer Meaghan Winter talks to 15 women about their experiences.