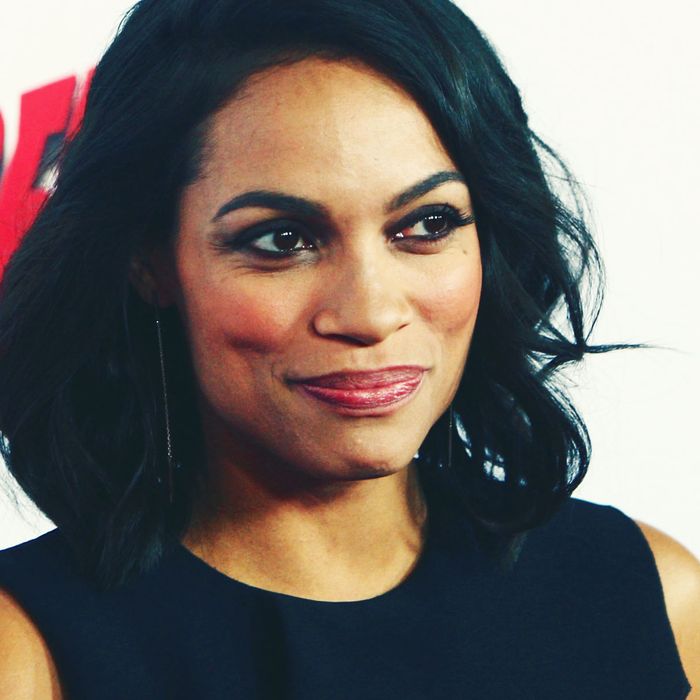 Rosario Dawson.
Photo: David Buchan/Getty Images
Actress Rosario Dawson doesn't just want Hollywood actors and actresses at tomorrow's Golden Globes to wear black to protest sexual harassment — she wants everyone at home to be wearing black, too.
Dawson is one of the 300 prominent Hollywood women who is part of Time's Up, an initiative that has called on women walking the red carpet at the Golden Globes to "speak out and raise awareness by wearing black." The Time's Up campaign includes a legal defense fund, backed by $13 million in donations, to help blue-collar workers protect themselves from sexual misconduct and the fallout from reporting it.
"We wear black to symbolize solidarity," she said in an Instagram video on Friday. "The death knell has struck on abusive power, and it's time to celebrate each other — not just the nominees on our film and television screens but our storytellers who have bravely come forward and courageously shared their stories which have liberated so many of us."
She concluded: "Time's up. Please join us in blacking out Sunday."
A handful of actresses applauded Dawson's Instagram video on social media this morning, including Eva Longoria and Reese Witherspoon, the two women who will lead the Time's Up "march" on the red carpet tomorrow.
"Everyone can join in tomorrow and post a pic of yourself in Black standing in solidarity with women everywhere trying to fight the imbalance of power!" Longoria tweeted. "#TIMESUP on abuses of power! Today is a new day!"