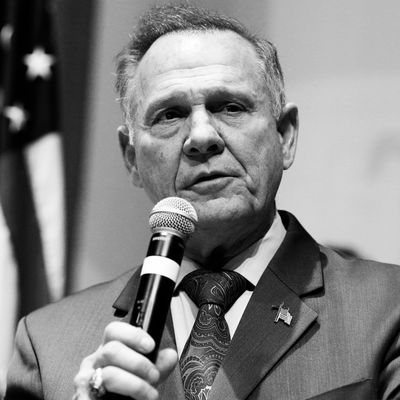 Roy Moore.
Photo: Luke Sharrett/Bloomberg via Getty Images
Leigh Corfman, one of the women who accused Roy Moore of sexual assault, is now suing the thwarted Senate candidate for defamation, the Washington Post reports.
Corfman alleges that when she was 14, Moore, then 32, took her to his house, undressed her, touched her over her clothes, and made her touch his genitals over his underwear. At least eight women have accused Moore of sexual assault. He has denied all of the charges and called them, "completely false," "malicious," and "politically motivated."
Corfman now argues, in a lawsuit filed today in Alabama state court, that Moore's denials constitute defamation. Gloria Allred (who's representing Summer Zervos, one of the women who has accused Trump of sexual assault) says that there is legal precedent.
Corfman is not seeking financial damages beyond her legal fees. But she does want a public apology from Moore. She said in a statement she hopes, "to do what I could not do as a 14-year-old — hold Mr. Moore and those who enable him accountable."
A representative for Moore didn't comment on the case.