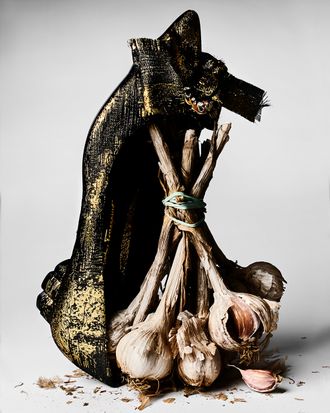 Photo: Bobby Doherty/New York Magazine
Finer Things is a photo series with a playful approach to elusive, glamorous fashion items we're fixated on right now.
Paul Andrew will debut his first ready-to-wear collection for Salvatore Ferragamo in less than six weeks, but he has been driving the creative direction of the brand's shoes since 2016. Here, he reinvents the iconic Vara shoe, a low-heeled slip-on with a structured bow at the toe.
The distressed gold-and-black fabric gives the style a new life, making it look softened up through a lifetime of love. The heel is lower, with a botanical shape; the bow is now frayed; and there's a new flower decal inspired by peonies. The effect is at once elegant and comfortable, like a well-sauced dish.