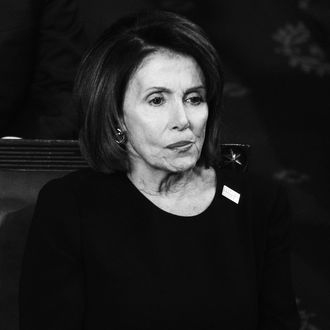 House Minority Leader Nancy Pelosi.
Photo: Alex Wong/Getty Images
Were Press Secretary Sarah Huckabee Sanders to implement her own agenda to Make America Great Again, anyone who questioned the authenticity of her homemade chocolate pecan pies would be punished, ungrateful reporters would be barred from press briefings, and Nancy Pelosi would be forced to smile "a lot more often."
Sanders appeared on CNN Wednesday morning to discuss Donald Trump's State of the Union, a more-than-hour-long speech during which much of the audience appeared to be miserable. It was the House Minority Leader's sour expression, though, that prompted Sanders to throw out the go-to demand of sexist men on the street.
"I think that Nancy Pelosi looks like that all the time," she responded to Chris Cuomo's comment about the divided room. "I think she should smile a lot more often. I think the country would be better for it."
Sanders continued: "She seems to kind of embody the bitterness that belongs in the Democrat party right now."
Little did Sanders know, that's just the face Pelosi makes when she's paying very close attention to the president's "slobbering self."