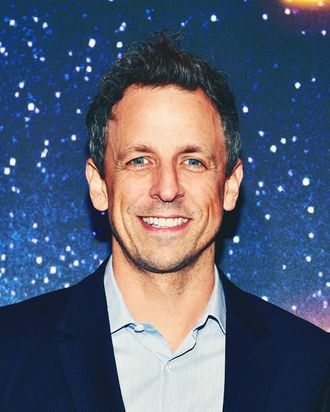 Seth Meyers.
Photo: Dia Dipasupil/Getty Images
Seth Meyers has a uniquely difficult task as the host of Sunday's unprecedented Golden Globes ceremony: to celebrate Hollywood and its denizens while being appropriately critical of the culture of abuse the industry has fostered, as well as making people laugh while dealing with the very unfunny subject matter of sexual harassment and assault.
Speaking somewhat elliptically about his plans, Meyers told the New York Times that he plans to tread carefully. "It's an issue you have to address, and it's pretty delicate," he explained. "When you're dealing with something that has affected so many people in a negative way, you just want to make sure you can talk about it in a way that doesn't magnify the negative element of it."
Meyers adds that making fun of the men who have been brought down by Hollywood's post-Weinstein reckoning is obviously "fair game." As he puts it: "We're in this situation right now where some people, very clearly, crossed a line and making fun of those people should feel like a positive thing." Yet he also wants to focus on the positive changes that are happening in the industry, like the new Time's Up initiative spearheaded by Hollywood women. "It seems like this moment should be a moment of optimism," he went on. "And I think that's what we're trying to address. This might be the beginning of something better."
Friend and former SNL colleague Amy Poehler — who successfully made one of the few funny Bill Cosby jokes onstage at the Globes in 2015 — gave Meyers her vote of confidence, pointing out that he is uniquely attuned to his position of privilege as a rich straight white man, and that "sensitivity is a current that runs through his stuff." As Poehler suggests, Meyers is known for being more cerebral and less likely to pull punches than some of his other late-night colleagues, so we're cautiously optimistic that he'll pull this thing off — even if it would have been nice to have had a woman or a person of color serve as this year's host, to underline the industry's commitment to change. Tiffany Haddish in 2019?