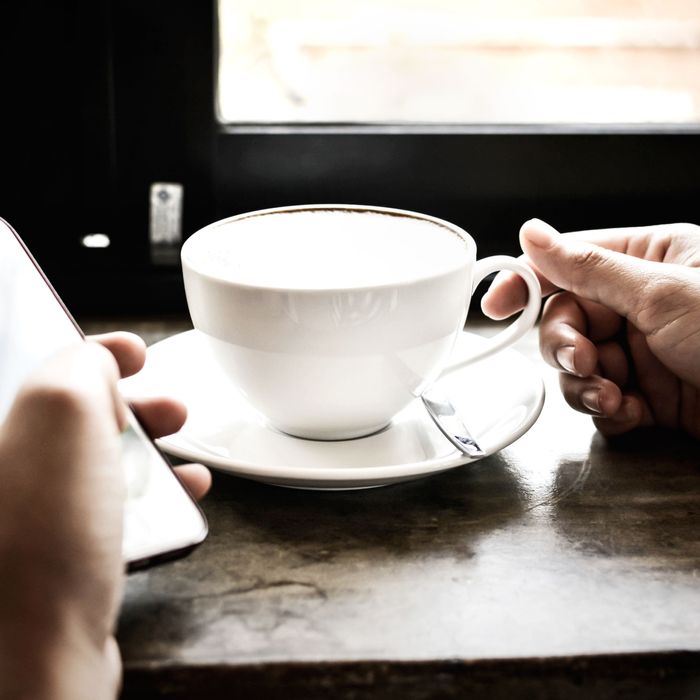 Get Sex Diaries delivered every week.
New York's Sex Diaries series asks anonymous city dwellers to record a week in their sex lives — with comic, tragic, often sexy, and always revealing results. This week, an interior designer sexting at a café: 45, straight, married, Tribeca.
DAY ONE
6 a.m. I wake up an hour before my family every day so that I can run for an hour outdoors. I do this every day, no matter where I am, or what time I went to bed the night before. Running is my religion.
6:10 a.m. Listening to a hip-hop mix, I try not to think about anything. I just run and run and somehow by the end, I feel balanced and centered and ready to start my day.
10:30 a.m. It might be surprising to hear that someone as regimented and type A as me is cheating on my husband of ten years. It wasn't something I expected I'd do either, but I've been running around with this actor guy for about six months now. We met at a coffee shop in Soho after I recognized him from a very obscure part he played in a popular TV show. We had instant, undeniable chemistry.
Coffee dates turned to wine dates and wine dates turned to make-outs and make-outs turned to sex at his apartment about once a week. Oddly, I feel no guilt. The affair hasn't affected my marriage positively or negatively; it hasn't changed my relationship with my kids. It hasn't fucked me up in the head. It's just great sex and something exciting to relish during the week. Like a shopping spree or a great meal. He is my once-a-week decadent dinner at New York's hottest restaurant … if that makes sense. I'll call him Matthew.
11:30 a.m. I'm working at home, and my kids are at school. They're twin girls in their teens and, shockingly, they don't give me too much trouble. I text Matthew a picture of me working at my computer in a black bra and black jeans. I'm an interior designer and a lot of my job is sourcing beautiful objects online. Matthew always writes back quickly. He says, "You are sooooo beautiful. I fucking want you!"
Sometimes he sends me a dick pic, which he knows I want and would never be offended by. (No pic this time, though.) He's single, no kids, living a pretty cliché bachelor life in Soho. I have no doubt that he has several lovers. It doesn't bother me one bit. We use protection. It's all good by me.
2 p.m. A rare lunch with my husband, a commercial producer who's on a shoot not far from our house. We go to a Tribeca favorite and get burgers, fries, and beers. It's very cute. I really love my husband — we have a good marriage. Our sex life hasn't been great for years. I'd guess we do it once a month, if I'm being generous. We're just tired and not driven by sexual urges anymore. I don't think he's having an affair. I just think he's not that horny anymore at 55. (I'm 45.)
7 p.m. My girls are home from school and activities and we're all cooking dinner together. We do this every night, us three girls. Do I think about Matthew during these family moments? Yes. Sure. However, my thoughts are purely sexual. It's not like, Wow, I want Matthew here having dinner with us and NOT my husband. It's nothing like that ever.
9 p.m. I go to sleep before anyone in my family. I close my door, read a book, and fall asleep after one page. This happens almost every single night. I pretty much have no idea how or when my girls go to sleep anymore, but they get great grades and never seem tired, so I don't worry about what goes on after Mommy hits the hay.
DAY TWO
9 a.m. I ran, got the kids off to school, and have to complete a work thing by 11. Then I have a meeting. And then I'm seeing Matthew.
1 p.m. Back home and getting ready to see Matthew. I take a very thorough shower and make my body as soft and nice-smelling as possible. This is a routine I really enjoy. I can't help but wonder if anyone does this for their husband of ten years. I think not.
2 p.m. We're having a wine date at one of our favorite spots. Matthew smells like the cold air. His scruff is perfect. I kiss him hello on the lips. I rarely worry about someone seeing us. Anxiety and paranoia take away from the moment so I choose to not think about getting caught. I know that's risky, but I can't explain it. I don't want to worry when I'm with him; I want to live in the moment.
We catch up about his gigs and all these #MeToo allegations. After two glasses of wine each, we say in unison, "Let's go!" We head to his house.
3:30 p.m. We go right to his bed and he undresses me. He goes down on me for maybe three minutes before I need him inside me. But first I suck him off, for a minute at most — he says to stop because it feels so good and he doesn't want to come so early. He puts on a condom and slips inside me. I come within two minutes, with him on top. Then he flips me over and takes me from behind until he comes. There are variations of this, but mostly that's our style. It's perfect. The entire thing lasts for about 22 minutes.
4:30 p.m. I'm back home getting ready for the girls.
9 p.m. Good night!
DAY THREE
10 a.m. I'm onsite with a client all day today. I love my job. I didn't go to college and instead went right into design with a high-end name brand, which really paid off. I guess sometimes I'm embarrassed that I'm not well-educated, especially living in Tribeca where everyone is trying to compete. But I've never really kept up with the mom scene here. Those women aren't my friends — they're not my enemies either, but they're just not my scene. I have three sisters, who are really my best friends. I'm the only one in New York, but we text and FaceTime constantly. I haven't told them about Matthew. I like having a secret, and I don't feel tormented by it … I just don't?
3 p.m. A couple sexy texts with Matthew. "You tasted great yesterday," that kind of thing. I ask what he's up to this Friday. Seeing him on Friday kind of violates my one session a week thing, but I guess all bets are off at this point. He writes that he's around. I tingle a little bit knowing I might see him sooner than later.
7 p.m. My husband handled dinner with the girls tonight. Nights like these, I feel blessed that everyone is happy and healthy. My husband and I attempt to watch some Netflix before bed, but he knows my bedtime is creeping up …
DAY FOUR
10 a.m. One of the best things about being a runner is I can eat whatever I want. This morning, I'm at a local café eating blueberry pancakes and working on my laptop. I send a picture of my heaping plate of food to my sisters, who all hate me for this behavior!
Instead of working, I play around on my computer looking for winter vacations for the family. We are financially comfortable because of my husband's job, but we aren't super rich. We rent our apartment and the girls share a room. But we do more than okay. I look into hotels in California, then I text Matthew for suggestions …
Noon My text to Matthew turned into a few hours of sexting, just as my coffee has turned to red wine. Still sitting at the café … I contemplate masturbating under the table, beneath my coat. No one would know. I ask Matthew if I should. He writes yes, but only with pics. So I try to get my hands under my jeans while also taking photos and it's very awkward, but I get some hot pictures to him … even if I can't manage to get off.
1 p.m. I finish the job at home. I lie on my bed and rub myself until I come, thinking about Matthew's tongue on my clit the entire time.
1:30 p.m. Late for a work meeting uptown. I zip up my jeans and get out the door. I don't wash my hands. Is that gross?
6 p.m. My girls have dance recitals tonight so my husband and I meet at the event space. We hold hands while watching them and when it's over, we are both a little teary-eyed. I kiss him on the lips. He's a real softie when it comes to the girls. I love him for it.
7:30 p.m. We go out to pizza and get ice cream sundaes. A post-recital ritual from when I was little and doing recitals in Maryland.
9 p.m. Just made it to bed in time.
DAY FIVE
6 a.m. My run feels extra good today. The music is bumping and it's finally not so cold out. I'm excited to see Matthew and want to make my body feel extra tight. I push really hard and run fast the entire hour.
8 a.m. Oddly, my husband has a day off today. He tells me this as we're all having coffee, just at the time he normally shoves off. I didn't know about it — he works most days a week, even on weekends. A shoot was canceled so he's home. I'll have to rework a few things.
8:30 a.m. I discreetly text Matthew that I can't meet up today. He writes back, "Did we have plans?" This is hurtful (kind of) because it shows I looked forward to it more than he did. But then again, it was kind of a thrown-together idea just two days ago and over just one text. I return to the kitchen where my husband is reading The New Yorker. He tells me he wants to stay home out of the cold and watch movies together today. That sounds great. I just have about two hours of work to do first.
12:30 p.m. We've watched one movie and made epic burrito bowls. I think maybe we're going to have sex because we're all cuddled up on the bed, but then we take a nap instead. Classic. But, no love lost, I'm all for naps!
3 p.m. We are awake, now eating ordered-in pho, and watching another Coen Brothers movie. The girls have activities until six or so, so now is the time to have sex if I want to … I blatantly turn to my husband and say, "You want to have some sex?"
We laugh, and then we start to kiss. My husband has always been a great lover. He's tender and intimate and really in the moment. His penis is great but it doesn't hit me in any spectacular way, the way some dicks do. I've always known this. It's not a size thing. Maybe it's the curvature. Some dicks just touch you in an irresistible way. But we are great about coming at the same time, which we do.
9 p.m. Girls fed, husband happy. Good night!
DAY SIX
9 a.m. It's the weekend, when I don't really communicate with Matthew. It's a boundary I've set for myself. We have all sorts of birthday parties and swim meets and art classes today. My girls love music, dance, and art, so I try to provide as much exposure as I can. Tonight we're all seeing an off-Broadway play.
7 p.m. The family is at the theater. We look picture perfect and we are quite happy. But every family has its secrets. You never know what's really going on beneath the surface. When I sit back and think about this, I start to wonder about my husband's secrets. He is no less of a complicated human being than I am. What goes on in his most private world?
10 p.m. Very late night for me, but well worth it. We had a blast at the theater and then we got burgers at Shake Shack. I went for fries and a shake, two of my all-time favorite things.
DAY SEVEN
10:30 a.m. My girls are fighting, which they rarely do. My husband breaks it up. They listen to him more than they listen to me. They don't have boyfriends yet (that I know of), but girl talk runs wild in our house. They don't have their periods yet either — I guess they're kind of late bloomers. But it's all comin', I have no doubts. I try not to think too hard about them growing up, because that makes me terribly and uncontrollably sad.
5 p.m. Another full day of activities. No texting with Matthew. I do think of him on these days. A tingle between my legs and some plotting for the week to come, but that's just enough for me. I like what we have.
Get Sex Diaries delivered every week.
Want to submit a sex diary? Email sexdiaries@nymag.com and tell us a little about yourself.