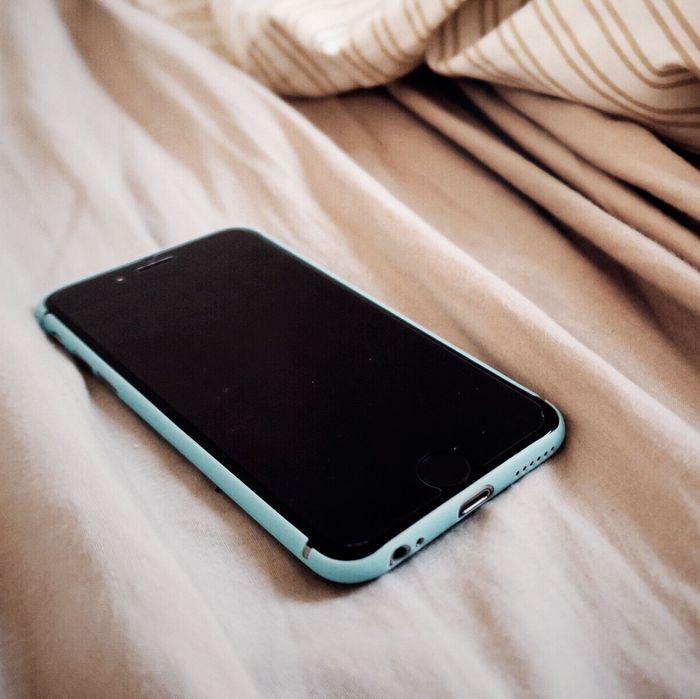 Get Sex Diaries delivered every week.
New York's Sex Diaries series asks anonymous city dwellers to record a week in their sex lives — with comic, tragic, often sexy, and always revealing results. This week, a 25-year-old woman who hated cuddling with a passion until this guy came along: straight, in a relationship, Bushwick.
DAY ONE
3:30 a.m. I wake up with the same terrible nightmare I always get when I'm dealing with anxiety. I check my phone and see a text from J. Are you up? We talk on the phone for about an hour. He's finally out of the hospital after being there a week with a staph infection — I wish I could have been there, but we're in a long-distance relationship. We say "I miss you" and "I can't wait to see you," and keep the sex-talk to a minimum. We hang up and I fall asleep.
11 a.m. I've been up about an hour, just hanging out at my cousin's place. My mom and I are in Detroit, visiting family because my grandpa has been sick. I work in sales, but I have this whole week to see my family.
I hop in the car and we head to Starbucks. My mom jumps out to get our drinks, and I send J a cute selfie before she gets back. I might be weird if she saw what I was doing … since J is her co-worker. They share a manger, but my mom is in a higher position than him. They do talk every day, though. We met at a show they were doing together for work. I was a junior in college at the time and I was home because my friends and I were headed to Miami for spring break. My mom kept saying she had a new co-worker she thought I'd like (but he had a girlfriend at the time). It took a few years to develop into anything.
My mom knows about our relationship now. We try and keep everything as separate as possible, but it's hard at times. We definitely don't discuss the sexual aspect. Or that I'm 25 and he's 30. After the selfie, he sends me an "I miss you," which turns into an "I can't wait to see you" (he's coming to visit me on Friday, once I get back home) … which turns into "Can you sit on my face?" I can't help but get all tingly.
7 p.m. Back at my cousin's house, I plop down on the couch because it's been a busy day, visiting my grandpa and all the family we don't see as often because I live in NYC and my mom is in ATL (so is J). I text J to see if he's busy and he's not, so we hop on FaceTime. My mom says "hi" to him in her best mom way. I think J is starting to become more and more okay with everything, but I can tell it's an adjustment. I mean, he calls my mom by her first name for Christ sake — in no black home would that ever be allowed! But in this case, we make an exception. J is black too, and has a beard. He's tall, about six-three (I'm five-foot). He also has salt-and-pepper hair, which really makes me feel like I'm dating an older man. I love his smile — it honestly lights up the room.
10 p.m. Off to bed, excited about seeing J this week.
DAY TWO
3 p.m. After running errands with my mom all day, I talk to J. He's spending time with his family for a few days before he leaves to see me in New York. I really love that about him; he truly loves his family. That is definitely something we connect over. I know that he wants to get married and have kids one day. But I'm only 25, and I'm trying to enjoy these years. J is older than me, but I always feel like when he's ready, it'll be the perfect time for me too.
6 p.m. I'm back with my cousin. We're talking with his son, who is the smartest 8-year-old ever. But being smart can sometimes get you bullied, especially in a low-income school. He's telling us about something at school when my mind starts to wander. This is why I'm not ready for kids — my mind still wanders like one.
9 p.m. My cousin's fiancée is doing my hair. She's one of my best friends and I honestly can't wait for them to be married. She's really big in makeup and hair and is on the way to becoming a huge influencer. We talk a lot about J and how happy we are.
11 p.m. I text J. I haven't talked to him much today. Sometimes it's like that. I used to get so upset, but I have come to understand that he's just not someone who sits around on his phone all day. The two of us have been monogamous since October. We had a hiccup — he had sex with someone else but was honest about it and felt really bad. From that point on it was decided we don't need other people.
DAY THREE
11 a.m. At the hair salon with my cousin's fiancée. It's her day off and I'm excited to hang with her. J calls, so we FaceTime about whether to get this amazing flight deal to Hawaii that my best friend found. But we don't get it in time and it expires.
4 p.m. We go to happy hour with another friend. I've been drinking Champagne all week so a drink-drink hits me fast.
6 p.m. We head to dinner with an even larger group of friends and have more drinks and more food. I sneak to the bathroom and FaceTime J. I tell him I'm drunk. I keep saying, "Baby, I miss you and I can't wait to see you." He doesn't mind drunk-me and tells me he can't wait to see me either.
9 p.m. I feel like a grandma, ready to go to bed.
DAY FOUR
1 p.m. My mom and I are running last-minute errands before we have to head out. J and I FaceTime. He's in the car on the way to NYC (he decided to drive). His friend is having a birthday party tonight and he's going to be staying with him.
4 p.m. J and I have been on the phone half the day. He's giving me updates on his whereabouts, which I love — we always have stuff to say to each other.
10 p.m. J calls to say he's finally made it to New York. We say our final "good night" and "can't wait to see you." I close my eyes and dream about how I'll get to see J. It's only been a month and a half, but that's still too long.
DAY FIVE
5 a.m. Headed to the airport. My mom and I do a very long and drawn-out good-bye. Her parting words were, "Don't mess this up." I think that's what every mother says when she loves the guy you're dating a little more than she loves you … which is cute, I guess.
9 a.m. I have a layover in St. Louis, and I'm feeling a little out of place. My layover is two-and-a-half hours so I decide to indulge in one episode of Black Mirror. The new season is out and my two best friends are already ahead of me.
11 a.m. Thirty  minutes before my flight is supposed to board, I give J a call. We've been going back and forth about whether he should pick me up or meet me at the house. We decide he can just meet me.
Noon The plane takes off, finally!
3 p.m. The first person I call after the plane lands is J. He doesn't answer. I'm a little pissed — he should be ready and waiting to see me.
5 p.m. Finally get my bags. I hate LGA! It takes like three hours to get your bag here. I catch an Uber home. Finally, I hear from J — he says part two of his friend's birthday party is at 7 p.m. and there's not enough time see me beforehand. I tell him not to worry, but to please hurry to me after. I try to compromise, but J tends to commit to a lot of things, even when he'd rather just drop it all and come be with me.
7 p.m. I'm back at home with my friends, who are also my roommates. I'm super excited to see them. They know J is town, so they immediately ask when he's coming over and if he'll be staying with us. We catch up, eat wings, and drink wine.
11 p.m. We head to our rooms. I don't fully fall asleep but try to a little bit because I know it's going to be a long night. J should be home soon …
1 a.m. J calls and says he's outside. I give him the code to the front door so he doesn't have to buzz and wake my whole house up. I crack the door and walk back to my room. When J walks in, my heart flutters — I am beyond smitten with him. He makes me smile to the point of my cheeks hurting. I jump on him, legs fully wrapped around his body, and whisper in his ear that I don't have any panties on. J immediately starts kissing me and we fall down on the bed. He starts taking off his clothes and goes down on me. Then I return the favor until we start having sex. It's the best feeling. I love how J lets me take control.
DAY SIX
7 a.m. I press myself into J. He knows what I want, so he lifts up my big T-shirt and slides right into me. This is the best time of day to have sex, and our favorite thing to do first thing in the morning. J flips me on my stomach and gently glides himself in and out of me. He starts pounding harder and harder, then pulls out and comes on my ass. I'm on birth control and have been since I was 16, but still — I'm not letting you come inside me unless there's a ring on my finger.
11 a.m. J and I chat with my friends for a bit and then he leaves. He took an Uber last night and has to go get his car from his friend's house.
5 p.m. Everyone at my house has been lazy today — we had a full brunch and mimosas. I'm beginning to get a lot of texts asking what we're doing tonight, but I have no interest in anything except kissing J. My roommate and I go to the liquor store and get some Champagne and a bottle of something stronger to throw back some shots. We left our other bestie at home to get some shut-eye.
9 p.m. We get all dressed up with nowhere to go and start taking shots. There's a little bar by our house and we think about going there because they always have a good vibe. I give J a call to find out why he's not back yet — he says he's at his friend's house drinking beer and watching football. I'm not too happy about this, so we get into an argument. We rarely argue.
Midnight J sends me a text: "I'm coming back to you." I'm extremely drunk at this point and ready to head home. We walk back.
1 a.m. J arrives and we cuddle a bit before falling asleep. We don't have sex, but the cuddling is great. I normally hate cuddling with a passion, but there's something about being under J that just makes it okay.
DAY SEVEN
7 a.m. I can't sleep, so I nudge J. It's his last day with me today. He was supposed to leave this morning, but I convince him to stay — then I pull down his boxers and go down on him. He groans a bit and says, "Isn't this a great way to start your new year?" I giggle a bit and come back up and he glides into me and then finishes. We smoke and fall back asleep.
4 p.m. J isn't feeling well, so he sleeps most of the day. I hang with my friends between checking up on J in my room. I don't mind. He's had a lot of stuff going on at work and at home — I'm not upset about us not being under each other this whole visit. At least he's here.
8 p.m. We watch TV, our Monday-night routine at my place. J is in my room watching the game. He's a football fanatic.
10 p.m. Our show wraps up and I head to my room. I get into bed with J and we spoon for a bit. He turns over and says how sorry he is for not hanging with my friends more because he knows how important they are to me. I ask him straight-up to confirm that we are only seeing each other. He says yes, that this is where he puts all of his time and effort. I end the night feeling extremely positive and hoping he's the one.
Get Sex Diaries delivered every week.
Want to submit a sex diary? Email sexdiaries@nymag.com and tell us a little about yourself.