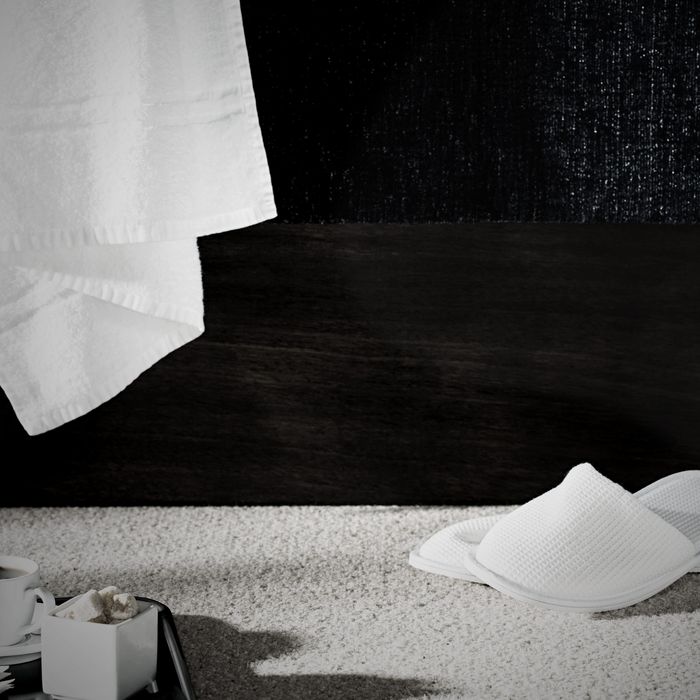 Photo: Image Source/Getty Images/Image Source
Get Sex Diaries delivered every week.
New York's Sex Diaries series asks anonymous city dwellers to record a week in their sex lives — with comic, tragic, often sexy, and always revealing results. This week, a 44-year-old woman who takes her wife to Miami to rekindle the flame: 44, Red Hook.
DAY ONE
6:30 a.m. We just got back from a family vacation and my 1-year-old son is crying in his crib, my 4-year-old daughter is in bed with us, and my wife is pretending to be asleep. Just because we're both women, doesn't mean we're both natural mothers. Lately, I feel like all the heavy lifting is on me. But we'll get to that.
9 a.m. I've stabilized the family and walked my daughter to school. My wife is just waking up. This makes me angry. I am angry a lot.
We met on OKCupid. Initially, it was a very physical and somewhat erotic relationship in that we were both coming from dating men who were assholes — and suddenly we had tender, beautiful partners in each other. Then, it was just like we were best friends, which was a lot of fun. Then we got married and did the kid thing. The American dream … ha.
9:30 a.m. I leave the baby with my wife and go to work. I'm a graphic designer. We don't say good-bye or kiss or anything. Tension is thick.
6 p.m. I text my wife to see if I should pick anything up for dinner. She says no.
7 p.m. I come home to a messy house, but a great dinner. Wifey can cook, I'll give her that. And she does keep our kids alive while I work on the weekdays.
8:30 p.m. We've finished a bottle of wine, the two of us, and bathed the kids and put them to bed. Standard.
9:30 p.m. I work from our bed and she watches a movie in the other room. I fall asleep first. No sex, no goodnight.
DAY TWO
9 a.m. I'm at work. I'm trying to think about when things became so un-fun at home. The easy answer is: kids. But can it be just that? Are there any happy couples with two young children?  There is so much to stress about: Money. School. Health. I have no mental energy to focus on my love and sex life, and I think my wife feels the same. We've been together six years and had our daughter after two years (a friend got my wife pregnant both times through IUI and is now somewhat of a godfather to our kids).
10:30 a.m. I try to Amazon a bunch of things so our house has basics like soap and, I don't know, oatmeal. It seems like we're always out of everything. My wife hates to shop and is very frugal — and since she doesn't work she doesn't have money to spend. I pay for almost everything, which is fine, but I think it's perhaps a source of issues subconsciously (for both of us).
3 p.m. Surprise cupcakes for me at work. It's my birthday! I almost forgot. I'm 44 today. Cupcakes, nice. 44, sucky.
7 p.m. The family has a little party awaiting me at home. My favorite meal, penne alla vodka, and more cupcakes. It's sweet. I actually kiss my wife on the lips after they sing "Happy Birthday" to me.
9:30 p.m. Working in bed, wife watching movie in the other room.
DAY THREE
9 a.m. At my desk. Rough morning, up since 4:45 a.m. I adore my kids and try to cherish the playtime since I work so much. But 4:45? That's insane.
10:30 a.m. Trying to think about when we stopped having sex. A year ago? After our son was born? That's when our love life got really dry. We've masturbated for each other and kissed but no crazy "love making." Neither of us seems too horny or like we're missing it too much. We recently watched The Girlfriend Experience, which is all fantasy lesbian sex basically. And even after that we were like, "Ummmm yeah weird show, goodnight."
Noon I go to hot yoga on Wednesdays. There are some attractive people in my class — I'm into both men and women, traditionally — but I'm not here to flirt. I'm here to breathe.
2 p.m. I always feel great after yoga. Very Zen. I work in a more fluid and joyful way. And then I prep myself to go home to the gloom …
5 p.m. I'm home a little early today. Both my kids have colds and it's a lot for my wife. It's not like I hate her or want to punish her. I love her. I just feel distant and cold and tense all the time. And TIRED. Would the divorce rate be lower if we all weren't so fucking tired?
6 p.m. I tell my wife to go to her favorite bar with a book. She looks really drained. I got this.
9 p.m. My babies are bathed and fed and hopefully feeling better. We all fall asleep in my bed. My wife is still out — I'm happy she's having quiet, adult time somewhere. She does deserve it.
DAY FOUR
10 a.m. I stay home from work today because both kids are still sick. My wife and I will have to combat the day together. I consciously decide to have fun with it …
11 a.m. I make us mimosas. Looks just like juice so my daughter doesn't suspect anything. It feels a little sexy and naughty of us and I for one am feeling good.
12:30 p.m. Mimosas make us hungry. Epic lunch. We basically put everything we have on the table, from cheese to olives to French toast to chocolate-covered almonds. Kids are feeling better and moms are feeling better.
2 p.m. Family movie in our bed. We try to choose something that's not animated so the adults can enjoy it too and the only thing that meets everyone's needs is Clueless. I'm very happy with this.
7 p.m. Kids are in bed. Wife and I are very tired from managing them all day and basically eight hours of day drinking.
9 p.m. Lights off. No kissing, no sex, but no tension.
DAY FIVE
9 a.m. I'm back at work. Inspired by yesterday's family time, I decide to book us a vacation to Miami. I text my wife that I'm thinking we should go away this weekend …
9:30 a.m. She texts me a simple thumbs-up emoji. This kinda pisses me off. Here I am planning it, paying for it, instigating something special for the family and that's all I get. My wife is a very mellow, low-key person. Before kids, she worked at a bookstore. She is quiet and bookish and I used to love her mild, yet sweet, demeanor. But come on, babe!
12:30 p.m. I have flights on hold for tomorrow. How's that for spontaneity. I text her that it's happening and tell her to call me …
12:45 p.m. She sounds excited. Good! Finally, a pulse on her. I make a promise to myself to be fun and sexual this weekend. I have a teenage cousin in Miami so I recruit her to sit for us throughout the weekend.
6 p.m. I send my wife and kids out with their godfather so I can pack everyone up. Not a terrible problem to have but getting them out the door and packing for four — it's a struggle. Parenthood is hard on all levels, it's almost not worth it. But of course, it is.
10 p.m. My wife tells me she's embarrassed to be seen in a bathing suit … it's not like her to say something like that. It makes me wonder if she is feeling bad about herself overall. That makes me sad. I kiss her goodnight and feel excited about our trip.
DAY SIX
5 a.m. In an Uber to the airport! This was the cheapest flight. Getting out the door was hellacious. I don't even want to think about it. This trip better be worth it.
5 p.m. Our kids are with family members and we are drinking margaritas at a pool. Too chilly for bathing suits but perfectly lovely out. We are holding hands. I love you, I say. She says it back.  We are kinda making out now and being cute. A thousand pounds lifted off my shoulders.
8 p.m. Back to hotel and both kids are sleeping! We have been drinking so we order room service and set up a picnic in the bathroom. It's silly and sexy. Before food arrives we have sex. It's awesome. Like clockwork, the French fries arrive just as I come. Not even kidding!
DAY SEVEN
8 a.m. I wish I could say today started off blissfully but our daughter has been throwing up since 6 a.m. Typical kid flu stuff.
10:30 a.m. We take turns between the kids and walks outside on the beach. We are making the most of it … still happy from last night's togetherness.
6 p.m. Family comes to sit again so we can go out to dinner. At dinner we actually talk-talk. We're not rushed, for once, and we feel close and free to really express ourselves. Nothing too dramatic comes out, just that we are both tired and stressed all the time. It clouds our moods. We know we will get through it. Our kids will soon be older and we will get "us" back on track …
9:30 p.m. Back to the bathroom! One thing is for sure: Sex tonight made up for the entire last year. Thank you, Miami.
Get Sex Diaries delivered every week.
Want to submit a sex diary? Email sexdiaries@nymag.com and tell us a little about yourself.