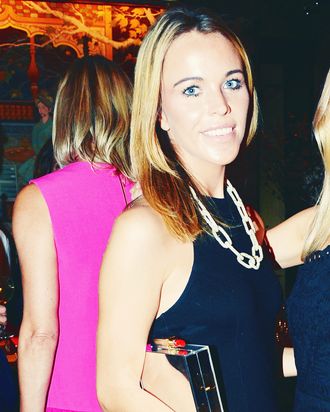 Jacqueline Kent Cooke and what appears to be the glass purse in question.
Photo: Patrick McMullan/Patrick McMullan via Getty Image
Another day, another young socialite behaving like a terror. The heiress in question this time is Jacqueline Kent Cooke, daughter of the late billionaire sports teams owner Jack Kent Cooke.
Cooke, 29, was arrested on New Year's Eve outside of a restaurant on the Upper East Side for allegedly assaulting a man with her small glass purse.
The alleged victim, 52-year-old Matthew Haberkorn, said the attack occurred after she made an anti-Semitic comment to his mother.
Per "Page Six:"
"I went to the bathroom as we were leaving," Haberkorn told The Post. "She made a comment to my mother, 'Hurry up, you Jew,' as she was getting her jacket."




When Haberkorn confronted the woman about the comment, that's when she unleashed her bag attack.
Photos taken that night show Haberkorn bleeding from his head. The paper identified the glass purse in question as the Lulu Guinness Women Chloe Mirror Perspex Clutch, pictured with Cooke in the photo above.
Cooke was also arrested in 2008 for drunk driving after leaving a diner without paying her bill. She allegedly berated officers and asked "do you know who I am?" when she was pulled over.