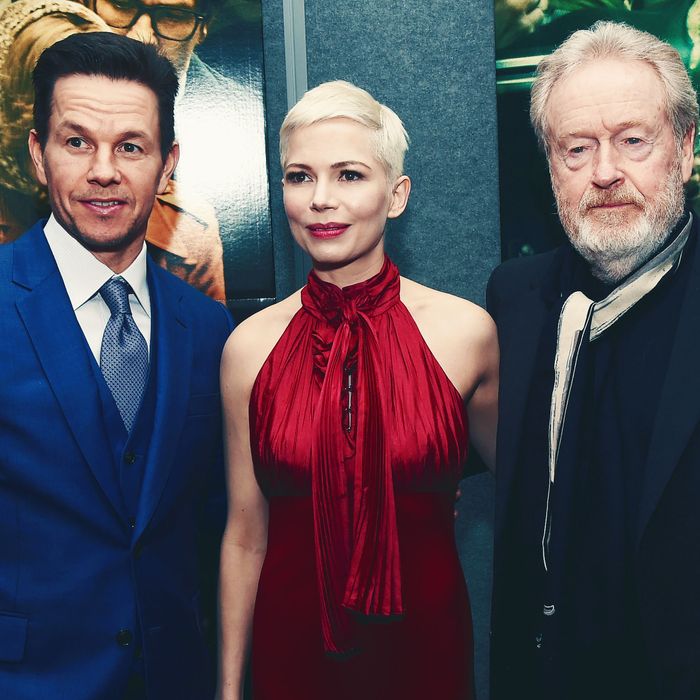 Mark Wahlberg, Michelle Williams, and Ridley Scott.
Photo: Kevin Winter/Getty Images
It seems time isn't up yet on Hollywood's gender pay gap. On Tuesday night, USA Today reported that actress Michelle Williams was paid less than one percent of what her co-star Mark Wahlberg earned for their All the Money in the World reshoots.
Back in November, the film's director, Ridley Scott, abruptly announced that he would be removing Kevin Spacey from the movie, after the actor was accused of sexual misconduct by multiple men. Christopher Plummer was recast in Spacey's role, and all of the actors were called back to Europe the week of Thanksgiving to reshoot his scenes.
Despite Scott's initial assertion that "everyone did it for nothing," three sources told USA Today that Wahlberg was paid $1.5 million for reshooting his scenes, while Williams was only paid an $80 per diem, which added up to less than $1000 over the course of the reshoot.
This vast discrepancy is made all the more egregious by the fact that Wahlberg and Williams are both represented by William Morris Endeavor Agency, which presumably negotiated both of their salaries for the reshoot, though, as the Daily Beast's Matt Wilstein points out, Wahlberg is reportedly close friends with the head of WME, Ari Emmanuel.
According to USA Today, when she was first asked about reshooting her scenes, Williams said: "I'd be wherever they needed me, whenever they needed me. And they could have my salary, they could have my holiday, whatever they wanted. Because I appreciated so much that they were making this massive effort."
Wahlberg, whom Forbes named the highest-paid actor of the year back in August, evidently made no such claim.