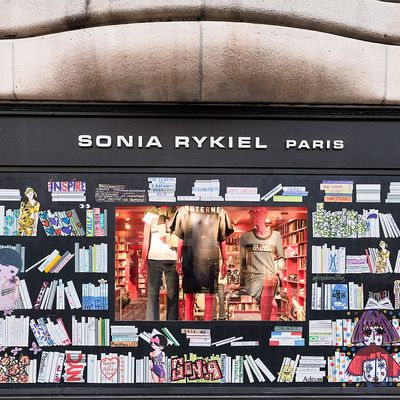 Photo: Courtesy of Sonia Rykiel
First, Hermès welcomed the public to doodle on its walls. Now fashion brand Sonia Rykiel is offering a similar treat to passersby, just a few blocks north at its boutique on the Upper East Side. Celebrating the label's 50th anniversary this year, the fashion house just unveiled an outdoor canvas mural that looks like a dream library shelf, designed by artist Jaro Varga. Outside the store on Madison Avenue, visitors will find a wall of blank book spines and boxes of pens nearby for people to draw in their favorite authors and book titles.
Revealed at an opening party last night, the new installation is a fitting homage to the late French designer Sonia Rykiel, who died in 2016. She loved poetry and literature and authored several books, including a novel and several children's stories. In the 1960s, her Paris store windows along the Seine displayed books and ballots among the clothing. Rykiel's cheeky picture book Dictionnaire Deglingue, published in 2011, is the inspiration behind a new capsule collection created in her honor, called the Manifesto. Each piece of clothing features a French word from the book with Rykiel's Dictionnaire definitions stitched inside, from cardigan capes to architectural knit dresses.
At the unveiling last night, guests added their own playful cartoons to the mural: paper dolls wrapped in CAUTION tape, abstract doodles, and personal mantras. It all evokes the joie de vivre of 1960s Paris, n'est ce-pas? Check out the installation at 816 Madison Avenue before it closes in mid-February. The Manifesto capsule collection will be available at the Madison Avenue boutique and at the Webster in Soho and South Beach until March. Scroll below for a preview.