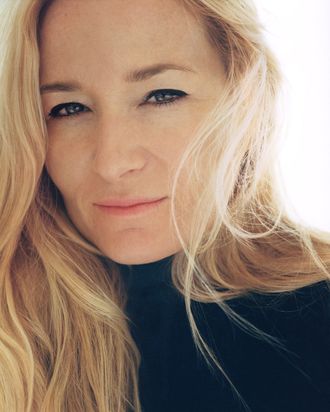 Julia de Libran.
Photo: Zhoe Ghertner
Julie de Libran is artistic, image, and creative director of Sonia Rykiel and approaching her four-year anniversary with the brand in May, but right now she has a milestone celebration on her hands — that of the fashion house's 50th year.
To kick off the festivities, the French born-, California-raised, Italian-educated designer created a collection of clothing and bags called Manifesto, released last week, which features 22 pieces inspired by the late Madame Rykiel's whimsical coffee-table book Dictionnaire Déglingué. In the book, Rykiel wrote humorous definitions for French words like Sauternes (a French wine) and baiser (to kiss). De Libran's new line features words from the book (plus a few of her own) emblazoned on sweaters, dresses, sweatshirts, and bags with the definitions embroidered inside. "She was a woman of words and a woman of literature and a woman of poems, but at the same time, extremely funny and playful," de Libran says of Rykiel, who founded the brand in 1968. "[The new collection] is, for me, about beauty, but it's also about playfulness and not taking yourself too seriously."
While the down-to-earth de Libran certainly doesn't take herself too seriously, she has a serious design background. She came to Sonia Rykiel by way of Louis Vuitton, where she worked under Marc Jacobs after a ten-year stint at Prada. Before that she worked at Versace during both Gianni and Donatella's tenures. Her first job out of design school in the '90s was at the Italian label Gianfranco Ferré, which she calls "an incredible school."
Fashion was always a calling for the designer, who moved to California from France with her family in 1980, and spent ten formative years in San Diego. There, in the city's flip-flop-wearing milieu, de Libran rarely found clothes she liked, so she took it upon herself to design her own.
"I was lucky that my mother brought me to a fabric store, and to a seamstress, and I was able to realize my drawings to create my dresses," she recalls. "I didn't realize it could become my profession, I just thought it was kind of a wonderful something to do. One notable creation was de Libran's prom dress — a black velvet, long-sleeved, boat-neck mini dress with a fuchsia bubble skirt. Her father took notice of her early talent and researched fashion schools for her to attend, eventually settling on the Istituto Marangoni in Milan — and the rest is history.
As she prepares to honor Sonia Rykiel's legacy this year (at the brand's fall 2018 show in Paris this March, followed by further reveals in May and July), de Libran spoke to the Cut about everything from her lifelong flip-flop aversion to the feminist TV show she can't stop watching. Read on for the full Q&A.
How do you thank people for a gift?
I always write a personal note. I have my personal stationery that's been designed for me by my graphic designer, Peter Miles, here at Sonia Rykiel.
Color or no color on your nails?
I wear red color. I like Chanel — I just love the new reds of Chanel's, new Rouge Radical. It's actually the red that I used on my last spring/summer show. I used that red for all the girls, all their nails. It's a red that was designed by Lucia Pica and she's so lovely, she sent me a few samples so I could use them in the show. Her eye for color is so good.
What are five coffee-table books that you would be proud to display?
I'm really into photography and architecture and design, so mostly those books. I have the three books of Charlotte Perriand, the three in L'ouevre complète. I just received the third one that was just made, because I collaborated on a project with the daughter of Charlotte Perriand. The first one is 1903 to 1940, the second one is 1940 to 1955, and the third one that was my Christmas present from them, is 1956 to 1968. I love Anish Kapoor, and then Irving Penn; I have a beautiful book that's actually quite rare of pictures that he did when he traveled to South America and that is really beautiful. And so I treat that book with a lot of care … it's very fragile.
Heels or flats?
Heels, always. Right now in this moment, I'm wearing these really simple Céline boots that I think she's done really well, I think she used leather that is often used for gloves, so they're extremely soft and they're like an ankle boot but with a high heel, and I have them in a burgundy, which I'm really loving. I have them in white as well from the last collection.
What is a trend that you like right now?
Borrowing from a man's wardrobe. I guess it's always a trend, but I just always like that.
What's your favorite song on your playlist right now?
I have to say I really like the Ti Amo album from Phoenix. I think it's just very sexy and it reminds me of these Italian songs from when I lived in Italy, the singer [Lucio] Battisti. I feel that there's an Italian inspiration.
If you were a car, what kind of car would you be?
I think I'd be a Porsche in the '70s, so the 911 Porsche. I just think it's extremely sexy. It's powerful, it's small, and I love small cars. It holds the roads well, I love the proportion, I love the design … I love it in red and silver, I love it in black. Even better if the roof opens.
No makeup-makeup or actually no makeup?
I'm more of a no-makeup, makeup. I actually wear makeup but I don't look like I'm wearing that much. I always wear a BB crème, and then I'll wear eyeliner — I try to make my eyes look bigger and open, because I have quite small eyes. So I wear a liquid liner usually, from Charlotte Tilbury. And then I love wearing [highlighter], under my eyes, from RMS.
I use a lot of Chanel makeup actually so I would have to name the mascara, again for my eyes, and then just some lips. In the morning I'll start wearing a light lip, like a natural lip. I often use the Daylight Rouge Coco. It's like a natural color, it's not red. I would love to wear red on my lips but I don't feel comfortable, it just doesn't suit me.
What's one way your taste has changed since you were a teenager and one way it's stayed the same?
I've always been quite classic with a twist. I've always worn a lot of black, always. But I wear less colored eye shadow now, like I'll wear more neutral shadows, like a brown.
What's your guilty pleasure?
My guilty pleasure is chocolate. [Sonia Rykiel and I] do have a lot of things in common, you know. Sometimes I would not have lunch, and just have chocolate.
What's the last show you binge watched?
I saw Gypsy, with Naomi Watts. It's fantastic. It's about this psychiatrist, she's amazing in it, and she's quite lost, sometimes, and kind of loses herself through her patients. She's fantastic and it's quite feminist. She's really good in her role and it was quite addicting. I recommend it. Another one is Big Little Lies. Incredible actresses.
What's your vision for the future of the brand?
I feel like this is a house that was created by a woman and I feel, for me, that as a woman, I want to design clothes that let you be what you need to do during the day, because I feel like today women are extremely active. You dress in the morning — if you have a family, you're running around, you're leaving your children at school, then you have to run to the office, be in your meetings. Then you might go straight to an exhibition if you're lucky, and maybe go to dinner. Our day is so full. I feel like you have to have clothes that accompany your body and your movement, and not be in your way, not as a costume. Something practical but at the same time where you feel strong and where you feel a certain confidence, but a certain beauty that's also timeless but with a creativity.
What's your favorite pair of jeans?
I've been wearing lately these really great jeans from Frame. I think the cut's really good. They're very easy for everyday and comfortable and have a nice fit.
T-shirt?
I would have to say is a T-shirt that's in this new collection I explained to you, Manifesto. The "Baiser" T-shirt.
Pajamas?
My favorite pajamas are men's pajamas [from] this really classic Parisian brand called Charvet. It's very traditional men's shirts and pajamas.
Flower?
The peonies. I just love the smell and that they look like roses, but they're like wild roses. They're more open, and they feel like a rose that's totally gone wild.
Chocolate?
It's just here at the corner of the street, Alain Ducasse. Black chocolate.
Fragrance?
My own actually, I'm very lucky because one of my closest friends is a nose and she created my fragrance, and it has my name on it — it's wonderful. So it's mix of vetiver, rose, iris, and fresh soap, it's lovely.
Sheets?
I have my linens made, actually, and it's this Italian brand, called Ada Giovanelli linen. And they make them in Florence and I love it because I can personalize all my linens, like have all my initials made. For the different guest rooms I can do the different colors and initials. I always like white.
Lip balm?
I'm obsessed; I'm actually addicted to my lip balm. It's the La Mer one — it has a mint taste. I always have it with me and I buy extra sometimes and keep it just in case I run out.
This interview has been edited and condensed.
If you buy something through our links, New York may earn an affiliate commission.