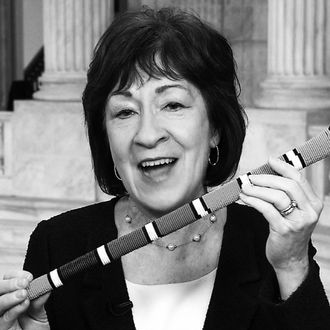 Republican senator Susan Collins of Maine.
Photo: Courtesy of CNN
Republican senator Susan Collins ostensibly appeared on CNN's New Day with Chris Cuomo to discuss the recent 69-hour-long government shutdown today, but she seemed more excited to engage in a little game of show-and-tell on the morning TV show. Her item of unusual interest: her African talking stick.
During bipartisan negotiations to end the shutdown on Monday, Collins reportedly produced the talking stick to enforce the kindergarten-approved discussion facilitation method — if you're not holding the talking stick, you're not talking. Cognizant of the public's newfound fascination with the stick, Collins was eager to show it off this morning on CNN.
"As you can see, it's beautifully beaded and it was given to me by my friend, Democratic senator Heidi Heitkamp of North Dakota, and it is originally from Africa," said Collins, proving she has friends across party lines. "It is used to help control the debate in a meeting when you have a large number of loquacious people."
Cuomo then engaged in some light teasing, alleging that "they use the same thing in [his] kid's kindergarten class," but Collins politely shut him down.
The senator also opened up about the meeting's descent into chaos yesterday when Tennessee Republican Lamar Alexander "forcefully delivered" the talking stick a little too energetically, hurling the stick past the intended receiver and straight into Collins's glass elephant.
"I would pick up the stick and take it from person to person, but sometimes it was tossed, and in this case, the toss went slightly amiss," Collins said.