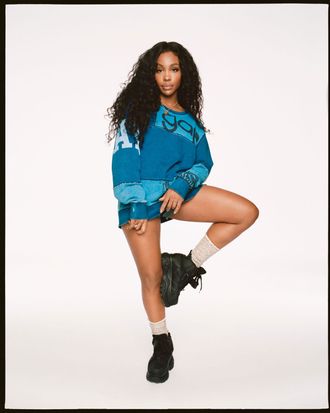 SZA.
Photo: Courtesy of Gap
In a song titled "Supermodel" on SZA's latest album, Ctrl, the now-27-year-old musical artist sings about all the insecurities she felt after an ex-boyfriend left her on Valentine's Day for a "prettier woman." She admits to sleeping with his friend as an act of revenge, oscillating between a sense of empowerment and the recognition that she craves outside validation. "I could be your supermodel if you believe," she says.
It's honest, relatable songs like "Supermodel" that have earned SZA, née Solána Rowe, the ultimate professional validation: five Grammy nominations, making her the most-nominated female artist in 2018. As of Wednesday, SZA is also a supermodel in the literal sense: the Gap cast her as one of the faces in its Logo Remix campaign, which seeks to give the brand's iconic '90s logo a modern update.
On set at the Gap shoot, which took place just days before SZA would perform on SNL, it was clear that SZA is ready for the spotlight. Her ability to find beauty in the highs as well as the lows — in things that are messy and imperfect, but real — is what has made her so successful and adored by fans. In 2018, she's the kind of supermodel we need.
Below, SZA opens up about everything from fashion and beauty to embracing the game of double-dutch that is life.
I know you're a fan of overalls. Did you have any Gap overalls growing up?
Yes! It's crazy how you can find vintage Gap overalls at the thrift store now. You can even find OshKosh B'Gosh.
What do you like about overalls?
Wearing them gives you a sense of empowerment because you can be more comfy than you would be in the regular world. It's almost like you can do anything and say anything. You can be active. It's a guard; that little front pocket is a shield.
Are you a nostalgic dresser?
I read this psychology thing once talking about how millennials are going through this really fucked-up crisis where we miss the '90s when we were happy. That's why we're bringing this shit back in one whole emotional wave. We're just nostalgically reaching for that joy and that comfort. I'm down for all of it.
Do you feel that way personally about the '90s?
Yes! When they run Hey! Arnold [on television], I feel better. When I see Gap the way I used to see it, I feel better. Everything else is trash, but maybe this one thing is the same.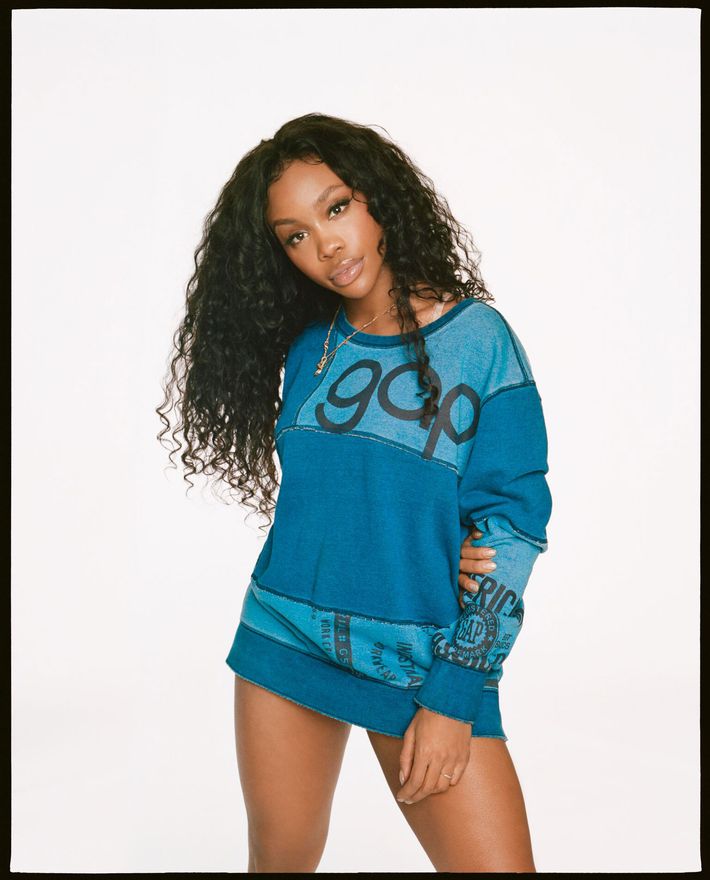 [SZA cuts off a piece of her hair.] I can't believe I'm watching you do this right now. Do you cut your own hair often?
I'm sorry. I do a lot of strange things. But sometimes it has to go. I've fried my hair off. I've shaved my hair off. I've done it all.
What hair products do you use?
I use Ecoco EcoStyler gel, but the alcohol-free protein one. That's the key. Have you ever heard of Pro Styl? Pro Styl is like, classic hood gel. It's brown and it gets really flaky, but it's protein-based, so it's not alcohol-based. It does the job. EcoStyler is like a mix between aloe gel and Pro Styl. It doesn't leave a weird residue. It's a soft hold, but it's happenin'.
Do you have any other beauty tips or secrets?
Definitely no secrets. I'm just trying to drink water. I didn't even shave my legs before I came to this [Gap] shoot.
Maybe the secret is not shaving your legs.
Right? You feel better and you have more time.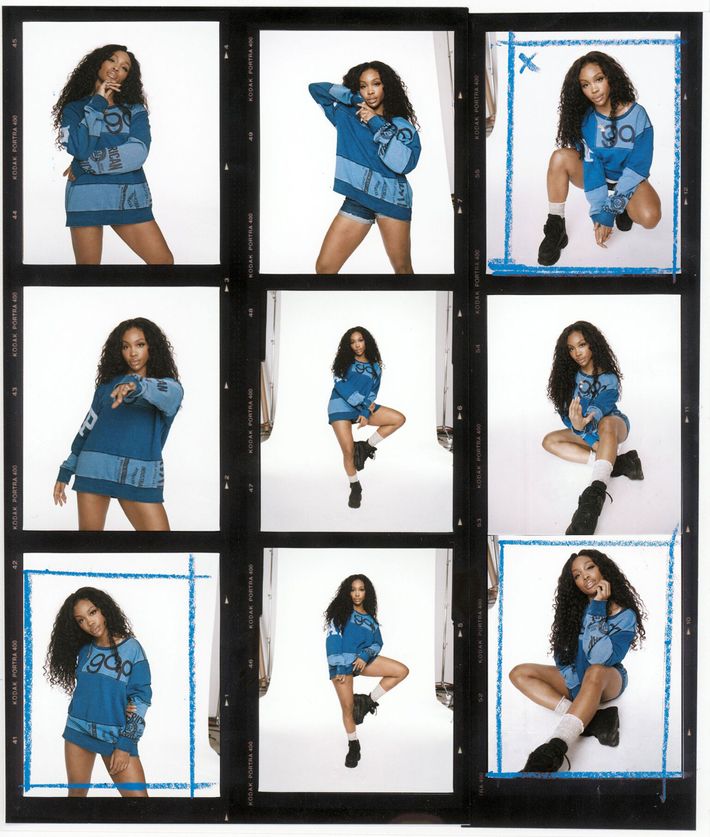 Alright, we're nearing the end of cuffing season. What's your stance?
I love cuffing season. It's a very inspiring season for those who want to be inspired. It can also make a bitch bitter. Like, you can get crazy. But I'm into it. Cuff me up and take me out.
What's your advice for how to make the best of cuffing season?
Don't be too choosy. It's cold outside; just hang out. It's a time when you have an excuse to be indoors with people that you wouldn't normally be indoors with. Bring snacks and a film.
Which films? Which snacks?
Charlie's Angels or Six Degrees of Separation. But what boy is going to sit with you through Six Degrees of Separation on a first date? If he does, marry him. And a full pint of cookie dough or cookies n' cream ice cream. Or you can take vanilla and dip potato chips in it. That's pretty wild.
What are your favorite Instagram accounts to follow?
Memes or bug accounts. There's this dude named @insecthaus_adi and he has the most beautiful insects. He's one of the largest insect breeders in Europe and he's just lit. He has the most beautiful images. It reads as fashion to me.
2017 was a huge year for you. You're the most nominated woman at the Grammys this year. How are you feeling right now about everything?
Strange. I'm just trying to step into the moment and not double-dutch it where you're like, I want to jump in. You lean outside, ready to jump in your set. It looks like you can do it — like you can two-feet-two-feet — but you know when you get in there, you're going to get fucking clipped. But I'm down to two-feet. And I think I know how to two-feet. So I'm just going to try. And if I get clipped, it's cool too.
Do you know what you're going to wear to the Grammys?
Hair.
Hair?
I'm going to hide behind hair. This is certain.